Will West – Top Apprentice for Canada A Region at 2019 Ideal Nationals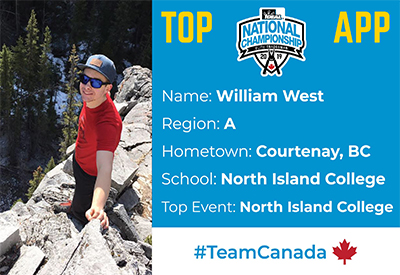 March 16, 2020
By Blake Marchand
Will West is a first-year apprentice working in the solar industry with Hakai Energy Solutions. Will was able to qualify for the Ideal Industries 2019 National Championships as the top apprentice from the Canada A Region.
Held from November 7th to 9th in Orlando, Florida and aired on ESPN 2, the Ideal National Championships gives electricians a chance to display their skills in a high-level competition. The event expanded internationally for the first time this year — over 55,000 electricians from 5 countries attempted to qualify for a chance to compete in the championship event.
"The atmosphere was incredible," he said of the competition. Being new to the industry and working with solar, Will noted that he didn't have very high expectations for the competition itself considering the tasks were more geared toward commercial/industrial work.
Although he admitted, "the thought of winning $30,000 was pretty nice."
"Definitely that I know about it now, I'm going to practice and try to qualify next year, again."
Hakai Energy is an electrical contractor specializing in solar energy integration and remote, off-grid power systems.
Based in Comox Valley on Vancouver Island, they work all across BC, often in demanding locations. Which facilitated the development of their own technologies like container boxes and remote monitoring stations. The unique configuration is customizable but generally includes a solar array, diesel or propane generator, battery system and power inverter, as well as remote monitoring and management tools. The solution is customized to each particular site/situation and built for all weather conditions. They also specialize in on and off grid solar applications, remote solar, EV charger installations and are a certified Tesla Powerwall installer.
"It's great work, the job I have I get to travel a lot and the hands-on experience is really good," he said, adding "I'm really interested in the renewable energy side of the industry and sustainability."
With the company's innovative approach to innovative industry, Hakai has been able to develop a talented team of certified red seal electricians, FSR certified Journeyman, and ITA registered apprentices like Will. Their 20-person crew also includes fabricators and electronics specialists that design and build Hakai's custom solutions.
The 2020 IDEAL Nationals will take place November 4-6 at Music City Centre, located in the heart of Downtown Nashville. This change in venue is just one of the exciting changes competitors can expect in 2020. Stay tuned to IDEAL's website and social media outlets for the latest announcements.
Blake Marchand is Associate Editor, Kerrwil Electrical Group