How to Get Precision Tunable White Lighting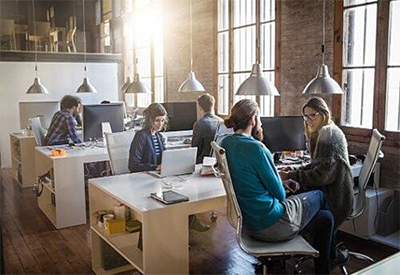 June 2, 2020
Human centric lighting puts people at the center of lighting design. It considers both the visual and non-visual effects of light from a physiological and psychological perspective and extends the scope of lighting beyond the traditional architectural design approach, which focuses on aesthetics, visibility and safety. Tunable white (TW) is the enabling technology for human centric lighting applications.
Studies have shown that the benefits to people when they have access to nature's 24-hour daylight cycle include better focus, better sleep and increased general feelings of wellness. Today, however, most people spend up to 90% of their time indoors so it is often hard to reap the benefits of natural light. TW technology creates artificial light that mimics natural daylight and its daily warm to cool cycle by adjusting the color temperature of a luminaire's white light output. This adjustment to artificial light is important to those that spend many hours indoors.
A Precise Yet Flexible Solution
Digitally controlled TW solutions offer precise intensity and color temperature light levels. This ensures consistent lighting across multiple luminaires in a space. In contrast, analog-based systems can have a variation in lighting quality from fixture to fixture due to signal inconsistency.
TW technology integrated into a connected lighting system offers flexibility in control. It enables centralized control of the space, while also giving occupants control from a wallstation where needed. For example, a classroom needs lighting control at the wallstation because teachers need to adjust lighting when it is reading or nap time. A dermatology diagnostic room may also need wallstation control to adjust lighting during procedures or to diagnose certain skin conditions. However, an open office space or a skilled nursing facility does not want individual users or patients controlling the lighting, so these environments would be candidates for using color temperature scheduling through the centralized light management system.
Addressing Cost and Complexity
TW technology may be considered a 'premium' level technology but there are ways that overall cost and complexity can be addressed. At a basic level, TW is just one more control capability in a lighting control system. With a connected lighting system, TW technology can be incorporated easily in some areas without affecting the rest of the system, saving you costs and complexity. This is because advanced lighting control is at the individual fixture level, which means you can identify specific fixtures in spaces where the TW technology needs to be incorporated and focus implementation on just those areas. Install or swap out luminaires for luminaires with TW LED drivers. It is not necessary to incorporate the TW technology where you will not need it. In fact, building and lighting plans will typically have 10-30% of space designated as areas that would benefit from HCL applications.
In addition to selecting specific areas of the space where the technology integration is most effective, it is important to consider how the technology is integrated within each luminaire. Many TW solutions require two LED drivers per luminaire instead of one, thereby complicating the wiring and driver installation at the luminaire OEM. In turn, this can affect the list price of the premium luminaire. Innovative 2-channel TW LED drivers simplify the OEM manufacturing process by reducing installation and wiring to a single LED driver per fixture. This creates savings that potentially can be transferred to the end customer.
OSRAM has developed TW technology as an integrated capability with the ENCELIUM® EXTEND Light Management System (LMS). It is the ideal solution for a building or campus that requires an automated lighting control system across all spaces and has individual areas where occupants could benefit from a human centric lighting application. The TW solution includes OPTOTRONIC TW 2-channel LED drivers that simplify the OEM integration process as compared to multiple LED driver solutions available to the market.
Source