Meet Meredith Halfpenny, Wind Technician – Boralex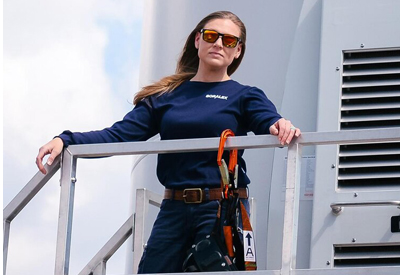 June 28, 2020
By Aaron Kothiringer
Meredith Halfpenny is a Wind Site Technician with Boralex where she inspects, maintains, and repairs both wind turbines and their infrastructure for the 230 MW Niagara and the 10MW Port Ryerse wind energy projects. Boralex is a power producer whose core business is dedicated to the development, building and operation of renewable energy power facilities. In 2018, the Corporation was operating an asset base with an installed capacity of 1,909 MW in Canada, the North-Eastern United States and France.
Among her many achievements, Meredith was the first female Wind Technician at Boralex and was recognized by WiRE for her outspoken advocacy for renewables, winning the Women of Distinction award at a CanWEA event in 2014. She was again recognized in 2015 by Clean Energy Canada, presented with the Clean Energy Champion award, an honour bestowed upon citizens that show exemplary leadership in reducing fossil fuel reliance and expedite the shift toward a clean-energy economy.
A seed is planted
Meredith was born and raised in Chatham-Kent, a rural farming community in South-Western Ontario. From an early age she learned the value and importance of land stewardship from her father, Doug, who instilled in her a value system that became the building blocks of the hard-working, progressive woman she is today. Always looking for new farming techniques and innovation, she learned about soil conservation and preservation and other nature-focused farming practices from her father.
She recalls a pivotal moment in both their lives when, as a teen, they were driving past a farm on the outskirts of London, Ontario and spotted a small, two-blade wind turbine.
"That was long before it became popular," she said. "It was unheard of at that time, we were amazed…that's where it began for me, the seed was planted."
Years later, her father was approached by a renewable energy company seeking his participation in a proposed wind farm. After a decade of holding a land lease, Pattern-Samsung took over the proposed project and development finally went forward for North Kent Wind. Pattern-Samsung would build a Siemens 3.0MW Direct Drive wind turbine on the family farm. And as luck would have it, Meredith was the technician that inspected it, from the offloading of the components to the final check before it began generating power.
"That was pretty meaningful, to have it come full circle like that was a special moment for me." Later that year her father was saluted at a CanWEA event with the Friends of Wind award, which she accepted on his behalf.
The modest trailblazer
Meredith initially went to college for Chemical Production and Power Engineering, but quickly realized that wasn't where she wanted to be. So she went back to school and completed a Law and Security Administration degree, making the Dean's Honour list, at St. Clair College in Chatham, Ontario. After graduating, her and a partner formed a small security company, and in 2009 oversaw the Raleigh wind energy substation, part of a 78,000 kW wind farm, in Chatham-Kent.
This was her first foray into the sector and although the company would later be absorbed by GardaWorld Security, for Meredith, this was the first step on the trail toward a career in renewable energy.
It was on this job that she first took notice of the Power Line Technicians and the work they were doing, "The more I watched the more I wanted to be on the other side, building these amazing wind turbines," she recalled. Soon thereafter, in 2012, she attended a WiRE networking event where she had the opportunity to meet other women who worked in the renewable sector. Meeting those women and hearing their words of encouragement gave Meredith the resolve to pursue a career in renewables. The following day she attended a CanWEA event in Toronto, where she networked and handed out business cards, and within a week had three different job offers.
In 2013 she got her first job at the South-Kent wind farm as a Quality Technician on the construction side of the operation. As of 2014 SKW produces 270 MW, supplying clean energy for approximately 100,000 homes across Ontario.
Her next stop was with Siemens-Gamesa, where she became the first woman employed as a QA (Quality Assurance) Technician; responsible for checking all components, mechanical completion walk-downs, and unit completion inspections – the final check before a tower is given the go-ahead to begin operating.
"I feel an immense sense of pride, pride in companies for seeing value in what women are bringing to the field," she said. "It's still a challenge, that's why organizations like WiRE are so important and why I want to be a part of this process…construction is still a non-traditional field and it can be intimidating for women trying to enter. We shouldn't have to feel like we need to work twice as hard to get recognition."
Around the time that her father's turbine was erected, and construction on the North-Kent wind farm was approaching completion, Meredith decided it was time for a change. Wind development in Ontario was grinding to a halt, and she was looking for job stability and less travelling from project to project. She found an opening at Boralex, becoming the first female Wind Site Technician in the company. In this role she dealt with more than just the turbines, focusing on the infrastructure that gets the power to the grid – all the substations, interconnects and underground components. Recently she endeavoured to begin an electrician's apprenticeship with the encouragement of Boralex, "I never want to be static, I love to learn and do new things," she said. "You can never go wrong with skilled trades, electricians especially, there is no downside to that."
View from the top
While Meredith claims she is no thrill-seeker, there is an undeniable element of danger involved in the construction and maintenance of these massive structures. She describes herself as 'adventurous,' a hobby of hers being rural exploration – finding, exploring and photographing abandoned houses, but when it comes to heights she is far more comfortable hundreds of feet in the air, working on blade inspections, than she is on the roof of her house, re-shingling. "Being so high in the air, it's just different, I love it, and the view is always amazing," she said. "It's not a career choice for the meek or introverted, it suits the bold…you have to have that touch of wildness in your blood."
These days her work is more regimented and routine. With a set schedule, she has traded working out of a trailer for working out of an office but recalls with fondness her days in construction and service, "They were so rewarding, because of the challenge. Working seven days a week, twelve hours a day at the bare minimum, sleep was scarce," she said. "You're out there in the bitter cold of winter and the blazing heat of summer. Something goes wrong or not according to plan 100 metres in the air, you have to improvise…It was some of the most fulfilling work I've ever done."
More than one Champion in the family
Although Meredith has won the award for Clean Energy Champion, she's not the only champ in her household. In her spare time Meredith grooms her two Central-Asian Shepherd show-dogs for competition through the United Kennel Club, and in 2019 they finished 1st and 2nd respectively. Meredith lives with her husband and daughter in Port Dover, Ontario.
This article was originally published by WiRE (Woman in Renewable Energy). WiRE is an industry organization with a mission to advance the role and recognition of women working in the energy sector. Inclusive of all renewable energy and clean technologies, our programming includes capacity-building field trips, networking meet-ups, an awards recognition program, student bursaries, speed mentoring and more. www.womeninrenewableenergy.ca
(use the photo from the source)