Whitepaper: Paving the Road to the Widespread use of Electric Vehicles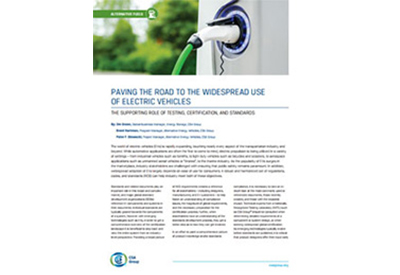 September 24, 2020
The world of electric vehicles (EVs) is rapidly expanding, touching nearly every aspect of the transportation industry and beyond. While automotive applications are often the first to come to mind, electric propulsion is being utilized in a variety of settings – from industrial vehicles such as forklifts, to light duty vehicles such as bicycles and scooters, to aerospace applications such as unmanned aerial vehicles or "drones", to the marine industry. As the popularity of EVs surges in the marketplace, industry stakeholders are challenged with ensuring that public safety remains paramount. A robust and harmonized set of regulations, codes, and standards (RCS) can help industry meet both of these objectives.
This whitepaper explores:
– The Standards Development Process
– Standards and Documents for EVSE, Plugs, Receptacles, Couplers, and Battery Packs
– Overview of Certification Requirements
– Emerging Technology in World of 'Vehicles'
Submit a form to view the whitepaper HERE.