The Smart Grid Atlantic Project: Developing the Electrical Grid of the Future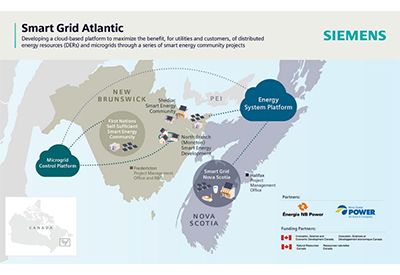 March 25, 2021
Smart Grid Atlantic: a living lab
The Smart Grid Atlantic initiative will determine how energy technologies of the future can provide customer, community, and provincial benefits such as cleaner local power, more renewable energy, new energy solutions and more reliable electricity.
Creating Smart Energy Communities in Atlantic Canada
Announced in 2019, Siemens Canada, New Brunswick Power (NB Power) and Nova Scotia Power (NSP) received federal funding for a joint pilot project aimed at analyzing challenges and opportunities posed by Canada's energy transition. The partners are researching and testing how the grid of the future can optimize the integration of renewable sources of energy, ensure the stability of the grid and manage decentralized distribution. The aim is to better manage the provinces' electricity, potentially reduce consumers' future electricity costs and reduce greenhouse gas emissions.
The Smart Grid Atlantic project deploys Siemens Energy System Platform (ESP) in both provinces (New Brunswick and Nova Scotia). The benefits of distributed energy resources (DERs) and entire microgrids for utilities and customers will be maximized through a series of smart energy community projects. A wide array of grid-edge devices and community and utility-scale assets will be connected. This includes:
– Residential solar, storage, water heaters, heat pumps, etc.
– Fleet and residential electrical vehicle charging
– Building automation systems
– Commercial solar, storage and loads
– Community solar and utility-scale storage
This project is a living lab for utilities to understand how customers engage with new offerings. It is demonstrating how to design new business models, create value, and analyze how incentive structures can influence behaviour. With all stakeholders involved, it is providing a critical roadmap for an efficient and cost-effective energy transition, leading to a more resilient and sustainable future.
Go HERE to download a whitepaper on the project