Brockville Businesswoman Thrives in Electrical Contracting Industry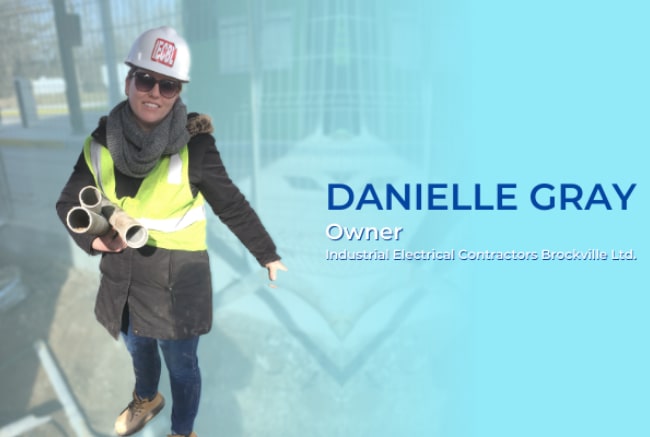 Aug 23, 2021
By Sherri Haigh
As a 34-year-old female owner of an electrical contracting business, Danielle Gray may be unique.
"I've been very fortunate," says Gray, who became an owner of Industrial Electrical Contractors Brockville Limited in April 2018. The company is a member of the Electrical Contractors Association of Ontario (ECAO).
Her company has been involved in many exciting projects, including the base building, substation and service entrance and BAS electrical installation of a new 3M plant for the production of N95 masks. They also do work beyond Brockville, including for the City Ottawa and the Chalk River Nuclear Plant.
"It is exciting but can be stressful, especially when you have a two-year-old and a four-year-old at home," she says.
Fortunately, she has a great support system and familiarity with the industry due to her father and many family members who work in the electrical trade. Her sister is also a licensed electrician.
"I started in the business by helping my father after I came home from university," she said. While not an electrician herself, she studied project management at the University of Ottawa, has a BA and has taken many other industry-related courses.
While Gray oversees the operations to ensure they run smoothly, she has a great team of certified electricians who work on the tools and qualified supervisors and licensed electricians who oversee projects.
While she does see more women entering the trades – particularly in project coordination and management – she acknowledges it is still a male-dominated industry.
"If I go to a meeting and there is another woman, I am surprised," she said.
Despite the inequitable balance, she says there have only been a few rare instances where she may have been treated differently because she is a woman.
"Sometimes you are not taken seriously, so you have to put your foot down or make tough decisions to make sure they pay attention. Fortunately, I have a good team to back me up," she said.
She did have some words of advice for women who are considering a trades career or currently work in the industry.
"You should not be afraid to hold your own. Speak up and don't be intimidated."
This article was published with permission by poweringcommunities.ca, a partnership of the Electrical Contractors Association of Ontario and IBEW CCO.