Retrofit Project Creates North America's Tallest Solar-Integrated Building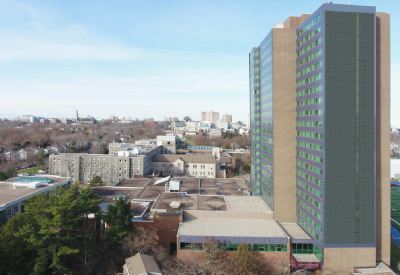 May 12, 2022
The tallest solar integrated building in North America will be at Saint Mary's University on the completion of a new project at the Loyola residence building.
"Universities are at the forefront of producing green energy and related research. We are essential partners in the fight against climate change," says Saint Mary's University President Dr. Robert Summerby-Murray. "With this new initiative, we are building on our history of projects to reduce greenhouse gas emissions and produce green energy. Saint Mary's will be a leader in North America in producing solar energy through building-integrated photovoltaics."
Saint Mary's is working with Mitrex, a Toronto-based manufacturer of building-integrated photovoltaics (BIPV). BIPV are solar power generating products or systems that are seamlessly integrated into a building's envelope and part of building components such as façades, roofs or windows. This project will transform an exterior wall of the Loyola residence with an integrated solar façade solution, the tallest and largest BIPV micro-grid application in North America. The implementation of the project will be done by DSRA Architects, Dillon Consulting, and BMR Structural Engineering, with construction overseen by the EllisDon Corporation and Grey Cardinal Management Inc..
"As this project began, we knew that a portion of the external envelope on the university's Loyola residence needed to be replaced," says Dennis Gillis, Senior Director of Facilities Management at Saint Mary's. "We decided to go bolder than a traditional envelope refurbishment. We saw the opportunity to create a green energy retrofit project in Atlantic Canada, an exemplar to other organizations of what is possible when we think outside the box, as we all work to reduce our carbon footprint."
Instead of simply replacing and repairing the pre-cast panel façade, this project will install aluminum panels with integrated solar photovoltaics from top to bottom on the south side of the Loyola residence facing Gorsebrook Avenue. This installation will create clean energy for the campus, approximately 100,000 kWh annually, further reducing the university's greenhouse gas emissions and moving Saint Mary's further along the path to net-zero.
This project represents an $8.5 million dollar investment by Saint Mary's University in green energy. The project is projected to be completed in 2023.