Southwire – Investing, Diversifying and Growing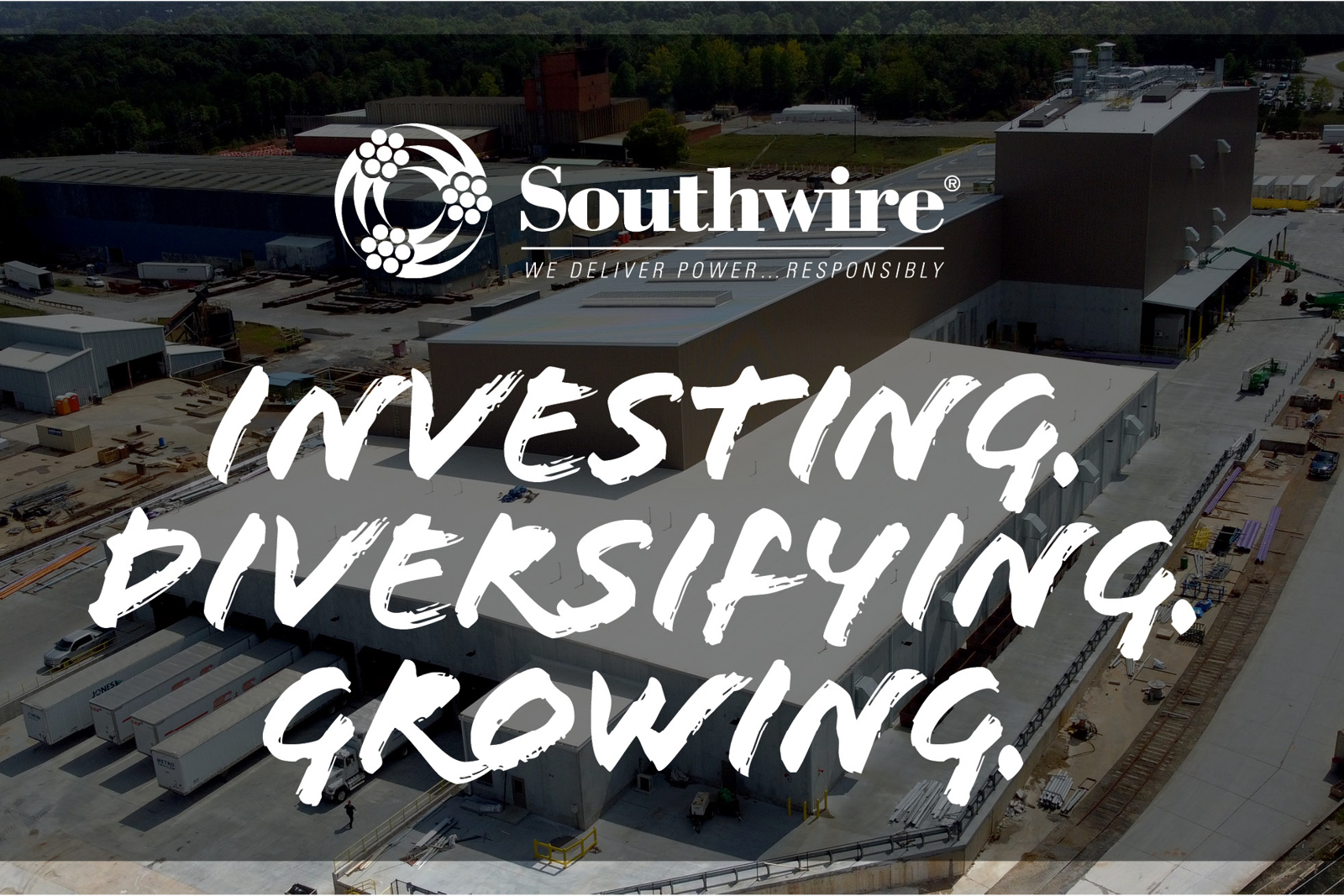 September 30, 2022
For more than seventy years, Southwire has been delivering power to customers throughout the world. A leader in the multi-billion-dollar North American market, the company is enhancing its proven legacy, trusted reputation and longstanding, disciplined financial management by building upon its strengths to attain sustainable, strategic growth.
While ensuring that its core wire and cable business continues to thrive, Southwire is simultaneously working to further diversify and offer adjacent, non-wire and cable solutions in areas where the company is uniquely positioned to win. The company remains strongly committed to its focus on sustainability, developing innovative systems and solutions, exercising environmental stewardship and enhancing the well-being of its communities through its core tenets of Growing Green, Living Well, Giving Back, Doing Right and Building Worth.
"It's a great time to be in the electrical industry, and it's an even better time to be at Southwire. Over the last six years, we've focused a great deal of time and effort into our strategic plan – one that allows us to become a diversified electrical business built on our wire and cable foundation and positions us for profitable growth – this focus has paid off," said Rich Stinson, Southwire's president and CEO. "Even through the unforeseen challenges of operating during a pandemic, the past two years have been some of the most successful years in our history, and I'm confident we will keep this momentum. I am so proud of our Southwire culture which is all about empowerment, trust, consistency and inclusion. We're in a really good place organizationally and financially to keep investing in this plan at the highest level."
As the wire and cable leader in North America, Southwire is executing its strategy in two areas: strengthening the core and diversifying the business. The company's core relates to the wire and cable products that are used in the transmission and distribution of electricity. Within this space, Southwire is a market leader with a brand that is recognized, proven and trusted. Through investing into this long-term strategy, the company expects to further strengthen its leadership role in the industry.

"As the clear North American market leader in wire and cable, we offer more than 80,000 products and solutions in our core wire and cable business, and our intent is to keep growing strategically – both organically and through focused acquisitions," said Norman Adkins, Southwire's president of Wire and Cable and chief operating officer. "As we find ways to enhance our competitiveness and reach in the core, our ultimate goal has stayed the same – we want to provide solutions that make our customers' lives easier. Southwire is positioned to assist in every phase of the job while offering the innovation, expertise and customer support needed to deliver industry-leading ideas and sustainable solutions to a diverse, omni-channel customer base."
As the company seeks to strengthen and diversify, Southwire has established a solid presence in the Tools, Components and Assembled Solutions space over the last decade, beginning with contractor equipment and hand tools and expanding its offering to now include cohesive, adaptable, and efficient solutions for every phase of the job.

"I'm so proud of the success and growth we've experienced through diversifying our business, and we're ready to do more. We want to grow our Tools, Components and Assembled Solutions offering into a multi-billion-dollar business over the next few years," said Brandon Moss, Southwire's president of Tools, Components and Assembled Solutions. "We have the talent and the financial position to prudently support future acquisitions, both large and small, with the right partners as we move forward."
More recently, the company has begun to expand its service and solutions offering through field services, digital solutions and construction planning services, finding more ways to deliver value to its customers, further diversifying the business and expanding its presence in the electrical space.

"Our growth in service and solutions is all about best serving our customers," said Tom Courtney, Southwire's senior vice president of Services. "As a part of that commitment, we recently acquired two companies: OBI Partners and Novinium, Inc. The OBI Partners acquisition allows Southwire to better serve utility customers by providing digital solutions, and Novinium, our newest acquisition, rejuvenates underground cables by injecting them with a silicone restorative. These acquisitions pair well with the service and support we're already offering as a company and position us well for future growth."
Since 2016, the company has invested hundreds of millions of dollars into its diversification strategy, has completed 11 acquisitions and is continually seeking opportunities for large and small investments that are a good fit for these growing business platforms.
Southwire's product portfolio gives the company a firm foundation for the future, and a strong strategy is in place to deliver growth, improved profitability and value creation for the company's stakeholders. At the same time, the company is working to drive operational excellence, making long-term, multi-million-dollar investments into areas such as modernization, lean culture, research and development and digitalization to ensure it can best support its strategic growth.
Notably, the company's modernization effort includes a multi-year investment of more than a billion dollars to integrate newer and better equipment, systems and technology into Southwire's operations, increasing efficiency, enhancing the company's competitiveness and ensuring the operational capability and capacity to support this strategic growth.

"We believe we have a great team and an excellent strategy in place that is already proving it can deliver growth, improved profitability and value creation for our stakeholders," said Guyton Cochran, Southwire's executive vice president and CFO. "Our financial position, our balance sheet and our liquidity are extremely strong, and we're ready, willing and able to invest in the areas that best align with our strategic plan."