New Edition of the Canadian Electrical Code Will Help Improve Electrical Installations in Many Areas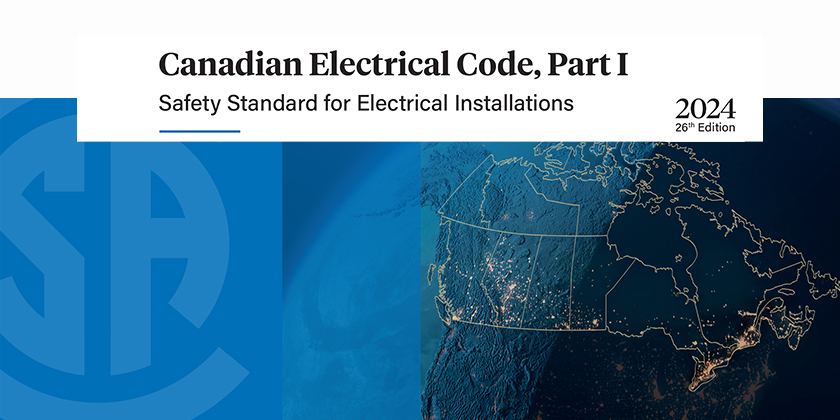 November 6, 2023
The Canadian Electrical Code (Code) plays a vital role in ensuring the safety of electrical installations and systems, establishing guidelines and requirements necessary to reduce risks of electric shock, fires, and other electrical hazards.
As electrical technology, materials, and equipment evolve, regular updates help ensure that the Code remains aligned with advancements in the field, allowing electrical professionals to work with cutting-edge tools and technologies safely and efficiently. The new 2024 edition of the Code, slated for publication in March 2024, will bring significant updates in many areas.
Energy storage and renewable energy systems requirements support low-carbon emission policies
Energy storage is a rapidly growing industry. Building on the guidance introduced in the 2021 edition, the 2024 Code refines and clarifies requirements for energy storage systems (ESS), including ESS rated 1 kWh or less, ESS located in dwelling units, and ESS located in buildings containing multiple dwelling units.
The 2024 Code also features substantial revisions to requirements for renewable energy systems, including placement of disconnecting means and inverters and a new option for initiating rapid shutdown of photovoltaic systems.
Electrical installation requirements help prepare buildings for more electric vehicles
With the targeted growth in electric vehicle sales, electrical infrastructure has to safely support charging needs. The 2024 Code adds electric vehicle supply equipment (EVSE) and electric vehicle energy management system (EVEMS) demand factors to load calculations for multi-unit apartment buildings and similar dwellings. This will impact the size of conductors and circuit protection used.
While the required demand factor for EVSE loads is 100%, it can be reduced when EVEMS are used, allowing for, in some circumstances, smaller consumer service.
Electrical safety requirements for health care facilities extend to basic care areas
The 2024 Code contains several revisions aimed at increasing electrical safety for occupants and staff of health care facilities. A key change is the new guidance for the location, securement, and accessibility of panelboards supplying circuits in patient care areas. This revision aligns the Code with the objectives of CSA Z8000, Canadian health care facilities.
Branch circuits supplying loads in intermediate and critical care areas, with the exception of those supplying multi-phase equipment, are required to be 2-wire circuits. Recognizing that the same level of protection should be provided in all patient care areas, the 2024 Code extends this requirement to circuits in all basic care areas.
Tamper-resistant receptacles have been a requirement for dwelling units, child care, and elementary education facilities for several editions of the Code. The 2024 Code now extends this requirement to basic care areas designated for diagnosis, therapy, and care of children.
Guidance for maintenance of electrical systems aims to improve safety
For many years, the Code has required that circuit breakers and fuses be identified with the loads served by those devices. The 2024 Code adds a new requirement, clarifying that the identification must be updated when circuits or feeders are added, removed, or modified at an existing panelboard.
In a similar fashion, the 2024 Code requires that overcurrent devices are marked with the maximum load where they serve single or multi-unit dwellings unit, and the ampacity of the conductors is less than the overcurrent device rating.
Protection from shock and arc flash hazards is a key focus of CSA Z462, Workplace electrical safety. In support of existing Code requirements for the safe maintenance of electrical systems, the 2024 Code now requires that means be provided and documented to reduce arcing fault clearing time for overcurrent devices rated 1200 A or more.
CSA Group members dedicate their expertise to the development of the 2024 Code
The 2024 edition of the Code includes other updates addressing safety for personnel maintaining pools, spas, and tubs, protection of receptacles in outdoor or damp locations, and providing new and revised requirements for wiring methods, conductors, bonding, and grounding.
The new Code is a result of the work of more than 260 volunteer CSA Group members who dedicated their time and expertise to help maintain a consistent foundation for the safe and efficient use of electricity across Canada and protect lives, property, and the environment.
To learn more, visit the 2024 Canadian Electrical Code web page.