Eaton's Auto-Monitoring GFCBs and Wall Receptacles Advance Electrical Safety, Reliability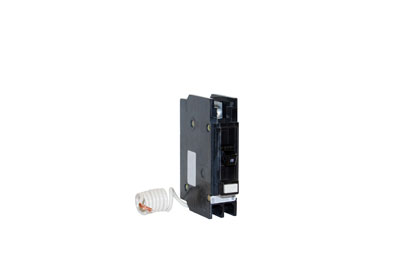 Designed to automatically monitor ground-fault circuit interruption (GFCI) status, Eaton's new wall receptacles and circuit breakers protect detect and against ground faults in damp or wet locations by automatically running self-test diagnostics. Engineered to enhance safety and electrical code compliance in residential, healthcare, institutional, commercial and industrial applications, the Eaton solutions meet recent revisions to the CSA standard C22.2 No. 144.1 Ground-fault circuit interrupters.
"Connecting and protecting electrical loads is crucial to safe, reliable and efficient power management within a facility or at home," says Grayling Love, Senior Product Line Manager at Eaton. A status indication light on the receptacle notifies users if a device is rendered inoperable and requires replacement, while a second indication light notifies users of a trip condition. For ease of use, the solutions have been designed with a horizontal test/reset button alignment to provide a larger unobstructed area.
To simplify installation, the new Eaton devices incorporate updated electronics within the same form and fit as previous generation devices. The devices will be incorporated into Eaton enclosures designed to meet CSA C22.2 No.144.1. Further, an automatic grounding system eliminates the need for bonding jumper within a grounded metal enclosure. To help ensure personnel safety, Eaton strongly encourages customers to continue to perform routine manual tests of their devices to supplement the new auto-monitoring functionality.
For application flexibility, the self-test GFCI receptacles are available in hospital grade, tamper or non-tamper resistant versions, with weather resistance or feature a blank face, a switch or nightlight with the receptacle. A wide range of colour and enclosure options is also available to meet specific design needs.
Find out more: www.eaton.com
 Other Products:
Eaton Offers Efficient Asymmetric Lighting Solutions for Large Open Spaces
Eaton's LED Roadway Luminaire: High Performance, Energy Savings and Affordability
Eaton's Halo LED Recessed Downlights for Slope Ceiling Applications
Eaton's Energy Efficient Linear LED Luminaire Provides High Efficacy and Cost Effective Illumination to Open Ceiling Environments
Eaton High-Performing Ambient LED Luminaire
Eaton's Downlighting LEDs Add Brightness Control, Up to 80% Energy Savings
Eaton Relay Helps Achieve New Level of Energy Awareness, Safety and Diagnostics
Eaton Laser-Etched Labels Help Authentication, Combat Counterfeiting
Eaton's Award Winning LED Parking Garage Luminaire
Eaton's J-Hook Colour ID Products for Data Centre and Light Commercial Cable Applications
Eaton Electric Vehicle Charging Stations: New Cord Connected Home Charger
Eaton's New Variable Drive Series