Wieland Electric Non-Incendive Barrier Module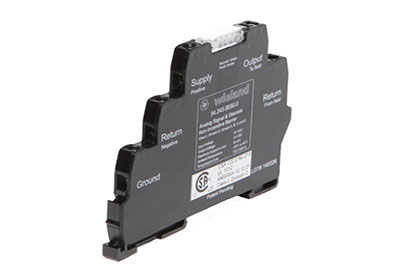 July 27, 2016
Wieland Electric Inc. single non-incendive barrier module for virtually any type of signal enables engineers to eliminate the explosion-proof enclosures and conduit in Class 1, Division 2 environments. The non-incendive barrier also offers significant cost and space savings compared to traditional intrinsically safe (IS) barriers.
The ASD-NIB non-incendive barrier minimizes the risk of ignition on the load side of the module by providing an electrical barrier between control devices and equipment installed in hazardous environments. This enables standard wiring practices to be used to connect to end devices in the field, eliminating the need to install expensive explosion-proof enclosures and conduit.
This new barrier brings several improvements to Wieland's existing line of non-incendive barriers. "With a single part number for almost every signal type, and the lowest insertion loss in the industry, the 6.2mm package reduces the footprint in the control cabinet and protects both the supply and return signals. Clear labeling and LED indication are also added to reduce incorrect use while making field troubleshooting simple" says Steven Hughes, industry sector specialist for energy at Wieland Electric. "The ASD-NIB
Series demonstrates Wieland's proven leadership and experience in the field of non-incendive technology."
The ASD-NIB is CCSAUS approved, 6.2mm wide and designed to connect single-channel analog or discrete signal wires from 24 – 12 AWG. It has a nominal rating of 24VDC/35mA. LED indicators on the module signal either normal operation (green) or a fault condition on the output (amber). An internal thermal fuse opens the output when the temperature reaches 75°C.
Find out more: http://www.wieland-electric.ca/en-ca/products/circuit-protection-0.