Hammond Type 3R Junction Boxes for Exterior Applications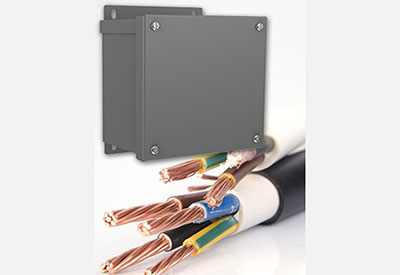 July 27, 2016
Hammond Manufacturing's new C3RESCNK Series Type 3R Junction Box is a cost-effective range that gives contractors complete freedom to affix any size conduit to the body of the unit at any point, providing on-site flexibility. Typically used outside for power and data junction points, the 10 industry-standard sizes range from 6 x 6 inch to 24 x 24 inch with depths of either four or six inches.
The offering is agency certified complying with NEMA Type 3R and IP24 protection standards, giving a degree of protection against rain, sleet, snow and dripping water, making it suitable for exterior applications. A drip-shield top and seam-free sides, front and back provide a secure environment for the cables; the gasketed screw cover provides easy access to the interior. Welded-on, full width flanges on top and bottom are provided, allowing for wall or pole mounting without exposing the interior of the box.
All sizes are available in either ANSI 61 gray powder coated galvanised steel or, for weight reduction and increased corrosion resistance, unfinished aluminum.
Find out more: http://www.hammfg.com/electrical/products/commercial/c3rescnk.