Hubbell Dual-Lite Adds EasyID Option to EVHC Series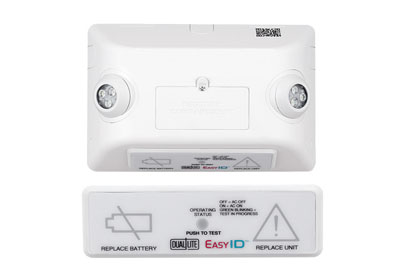 May 22, 2018
The EVHC series from Dual-Lite is a high lumen output emergency lighting unit designed for high mounting height applications. Dual-Lite recently improved the product with an EasyID option that improves visibility to fault status and detection while increasing and making life safety compliance easier for the customer.
How It Works
The EasyID option includes a battery compartment and foolproof alert system that communicates two failure modes – "Replace Battery," or "Replace Unit." The system works in coordination with the Spectron Self-Test/Self-Diagnostic functionality. If the battery is disconnected or in need of replacement, the "Replace Battery" icon will illuminate. Any other malfunction will illuminate the "Replace Unit" icon. If everything is working properly the green LED will be illuminated.
The EasyID option adds to the value of the EVHC series, a market leader in terms of fixture spacing and versatility in applications from 7-20' mounting heights on the wall or ceiling. The Standard model offers 51′ spacing on a 10′ mounting height and the high lumen option offers 75′ for even greater emergency lighting coverage.
The Features and Benefits of the EVHC series include:
LED lifetime warranty
Easy, quick installation with conduit entry from the top and both sides
Optional battery compartment for ease of maintenance
Low-profile, architectural design
Fully adjustable, integrated high-output LED lamps
Custom designed non-yellowing lens
UL924 compliant to meet derangement signal
High impact, flame rated and UV stable thermoplastic housing
Optional: Self-Test/Self-Diagnostics
Optional: High Lumen- 6W Lamps
Accessory: EVHCR2 Double Head Matching Remote
Remote capacity models have a minimum run-time of 120 minutes when no remotes are installed
Please visit the product webpage HERE for detailed information.