This Square D Modular Panelboard System bundles Electrical Distribution equipment into a single Factory Assembled and wired Integrated System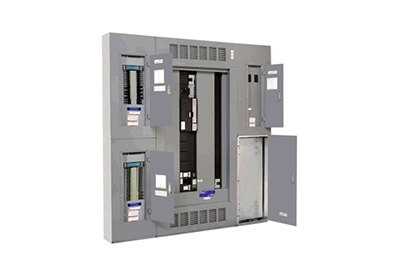 Feb 15, 2019
The Modular Panel Board System by Square D is an innovative electrical packaging solution that can reduce installation time and reduce material costs.
Features
Consists of a mix of NQOD, NF, NF Column-Width, NF PowerLink Gen 3, Single Row I-Line, Double Row I-Line & QMB panelboards.
Equipment Space, Lighting Contactors, and TVSS also available.
Significantly reduce the space traditionally required for electrical distribution equipment up to 40%.
The factories assembled and wired systems lower installed cost up to 20%.
Pre-assembled construction reduces the total installation time at the job site.
Distribution equipment can be configured from a broad product offering to provide customer-specific solutions and permit shorter lead times.
Dedicated Retail National Account Managers (NAMs) work with centralized or regional construction managers to optimize designs and assure consistent support.
The Global Project Management team will coordinate delivery schedules and verify that the system meets customer specifications.
Cutouts in the bottom endwall of each section permit conduit to be stubbed up inside the enclosure, eliminating the need to cut conduit openings.
Close coupling panels eliminate the need for interconnecting conduits, box connectors and shorten feeder cable runs.
Standard 9.5″ depth presents size advantages over competitors standardizing on deeper switchboard design platforms.
For more information go HERE