Presenting Pivot by Lumenwerx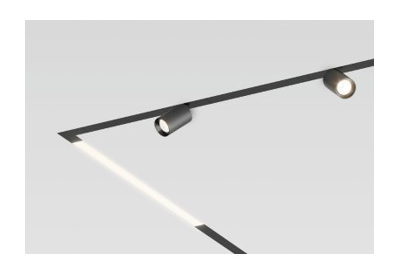 June 28, 2021
Lumenwerx announces Pivot, a next-level architectural 48V Magnetic Track System with integral drivers. Modular, compact at 1.55 inches in width, and expandable, it is composed of 10+ modules that can be mixed and matched to answer a wide variety of lighting applications. Pivot is offered in pendant and recessed options with direct or direct/indirect distributions and with infinite length possibilities. With our proprietary connectors, Pivot Linx, you can create any pattern or shape horizontally and vertically.
Modular freedom
The Pivot System provides novel solutions to lighting challenges that have increasingly emerged with the evolution of spaces as shared and multipurpose. It includes linear modules up to 8 feet, track heads, cylinders, and linear downlight modules, all of which are securely anchored to the magnetic track with our advanced V- Lock technology. Pivot is offered in 80, 90 and 95 CRI, Full Spectrum, as well as CCTs of 2700K, 3000K, 3500K and 4000K.
Pivot Performance
Pivot packs up to 1000 lm/ft for HLO and 1000 lm for track heads and cylinders.
Pivot is offered in a variety of control options both wired and wireless.
Changing it up… when you want to
The Pivot System is able to take lighting schemes in different directions. The system is also very easy to change and re-change since modular installation and release is tool-free.
Pivot broadens and brightens the horizon with an abundance of shapes and patterns for architectural applications, from high-end retail or sophisticated hospitality spaces to open-ceiling workplaces and lofty residential projects. With Pivot, the possibilities to stretch your creative boundaries are endless.
Go HERE for more information.