Emerson Floor Warming Cables Compatible with Uncoupling Membrane Systems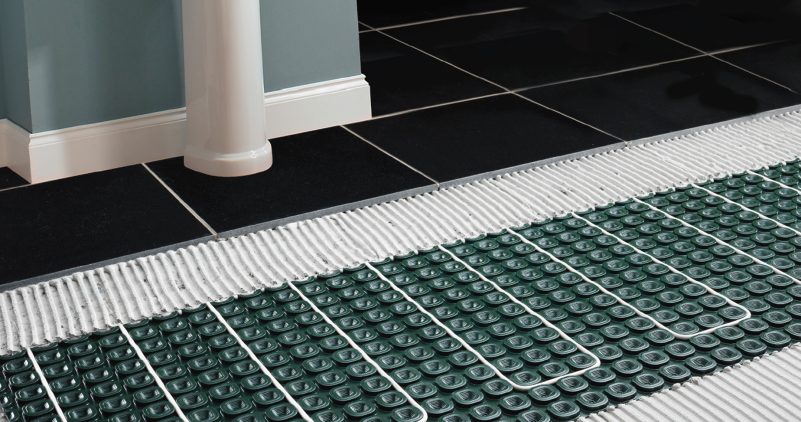 December 9, 2022
Uncoupling membrane systems have become a popular solution to install between subfloors and tile, porcelain and wood flooring. However, the systems' unique shape is not compatible with most floor heating cables, so contractors have not been able to incorporate the advantages of uncoupling membranes with heating into the same flooring project.
To solve this problem, Emerson offers EasyHeat Warm Tiles DMC Cables, an easy-to-install floor warming cable specifically designed for use with uncoupling membrane systems. Warm Tiles DMC cables are laid directly from a spool to the membrane, therefore allowing for custom floor installations using product straight off a distributor's shelf. Available in 120VAC and 240VAC, DMC cable's thicker diameter is tailored to perfectly snap into membrane systems for a secure, safe and reliable fit. It is ideal for any flooring warming project deploying uncoupling membrane systems, whether commercial or residential.
EasyHeat Warm Tiles DMC Cables help contractors achieve faster, more profitable flooring jobs with maximum customer satisfaction. Contractors can install the cables to gently warm flooring materials as diverse as marble, ceramic, glass and porcelain tile, slate, granite and poured or dimensional stone, as well as laminate and engineered hardwood products.
An affordable luxury, EasyHeat Warm Tiles DMC cables are compatible with most major brands of uncoupling membrane systems. Cable heating area ranges from 7 square feet (0.7 square meter) up to 250 square feet (23 square meter), or 44 to 785 feet (13 to 239 meters) in length. In addition, EasyHeat has a full range of programmable and non-programmable dual-voltage thermostats to control the floor warming system.
EasyHeat Warm Tiles DMC cables are CSA certified for use in the U.S. or Canada.
EasyHeat, a brand of Emerson, brings over 50 years of experience designing and manufacturing quality heating cable systems to this latest addition of its product line. Contractors can install Warm Tiles DMC cables knowing they have the proven reliability upon which EasyHeat built its reputation as an industry leader.
Go HERE for more information