FLIR DM286 Industrial Thermal Imaging Multimeter with IGM
May 23, 2023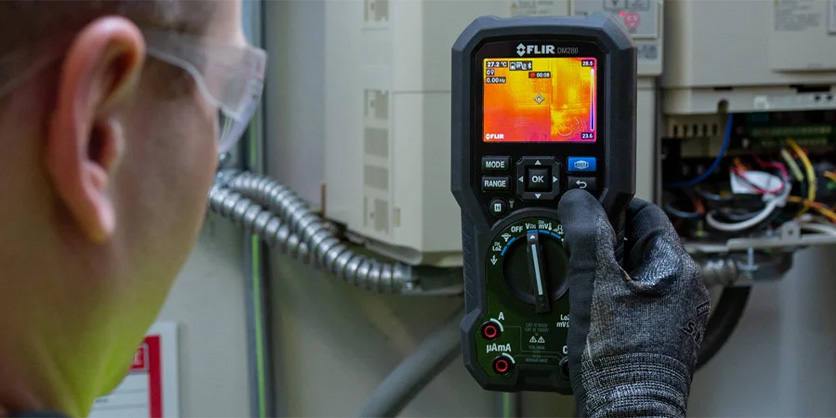 The FLIR DM286 industrial imaging multimeter is the ultimate tool for electrical inspectors seeking a safe, accurate, and efficient way to identify, document, and share findings. With IGM™ (Infrared Guided Measurement) and MSX® (Multi-Spectral Dynamic Imaging), you can safely identify where hazards might be before contact is ever made. The powerful multimeter can capture and store up to 30,000 images and 100 log files, with the ability to record thermal and visual video clips. Stream live data in real time from the DM286 to your mobile device. Use the METERLiNK® app to quickly and efficiently capture readings, images, and videos for analysis, trending, and sharing.
Precision Starts with Safety
Perform Safe, Accurate & Quick Inspections Safely locate potentially dangerous problems without direct contact using FLIR IGM. MSX gives you unrivaled clarity by embedding edge and outline detail onto thermal images.
Purpose Built for All Day Operation The FLIR DM286 comes with a built-in LED worklight for better visibility in dark or poorly lit areas, two rechargeable Lithium Polymer battery packs for all-day operation, and a 2 m drop test rating for durability.
Unmatched Connectivity Use the FLIR METERLiNK app to quickly and efficiently capture and compare readings, analyze and share radiometric images and videos, and create reports.
Work Faster, Work Smarter
IGM™ Infrared Guided Measurement
Upgrade your testing tool with Infrared Guided Measurement IGM. Utilizing the FLIR Lepton® sensor, IGM visually guides you to hidden temperature issues so you know precisely where to focus your troubleshooting. Eliminate guesswork and boost efficiency. Impress customers by uncovering problems and showcasing solutions.
Unrivaled Image Quality
MSX® Image Enhancement

The FLIR DM286 features FLIR's unique Multi Spectral Dynamic Imaging (MSX), which adds key details from the onboard visible light camera to the entire infrared image in real time. The result: an all-in-one, undiluted thermal picture with visible light features that lets you instantly recognize where the problematic heat pattern is. MSX is real time so you can see its results immediately on the camera's display.
Get Inspection Information to the People You Need
FLIR METERLiNK® App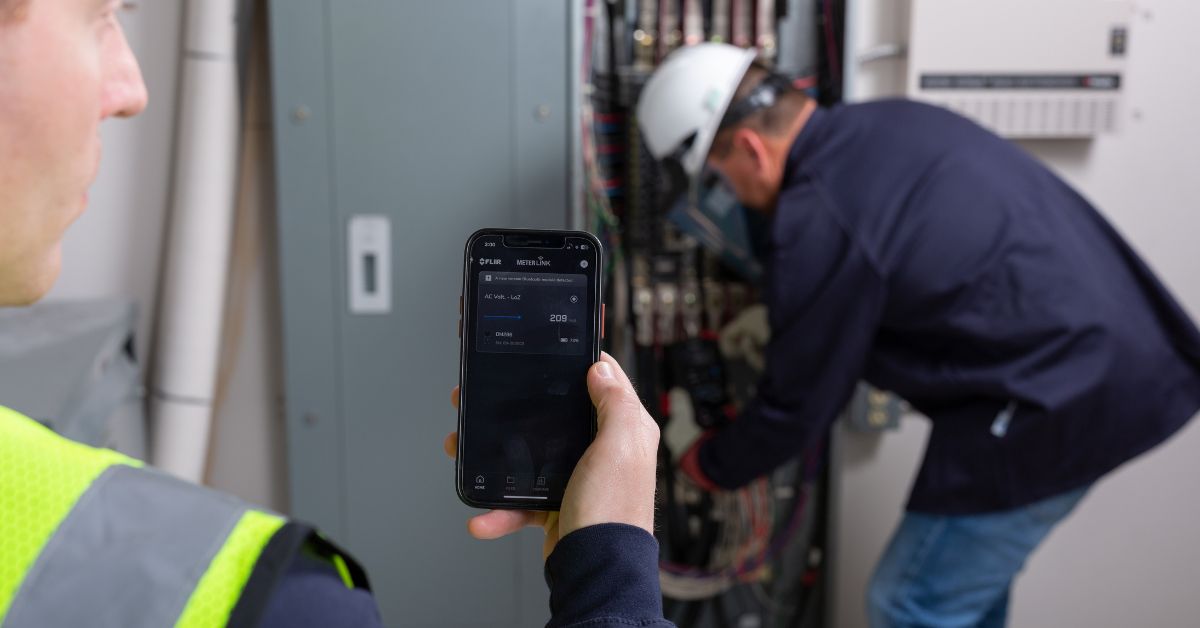 The FLIR METERLiNK® app allows you to monitor a variety of environmental and electrical conditions simultaneously with the ability to connect with up to seven FLIR compatible meters at once. METERLiNK allows you to safely capture images and monitor hazardous areas remotely and in real time. Whether you're connecting several FLIR clamp meters, digital multimeters, or any of the new METERLiNK app compatible meters, you will be able to keep tabs on key readings around your facility and easily share them with your team.
Related Story
For test and measurement customers, shopping with Teledyne FLIR e-commerce is about to get much easier. The Extech online store and website are now part of FLIR.com, providing one location to find product information, supporting content, downloads, and other customer support for all professional test and measurement needs