Legrand Announces Microban Partnership at IBS 2023 to Add Antimicrobial Protection to The adorne® Collection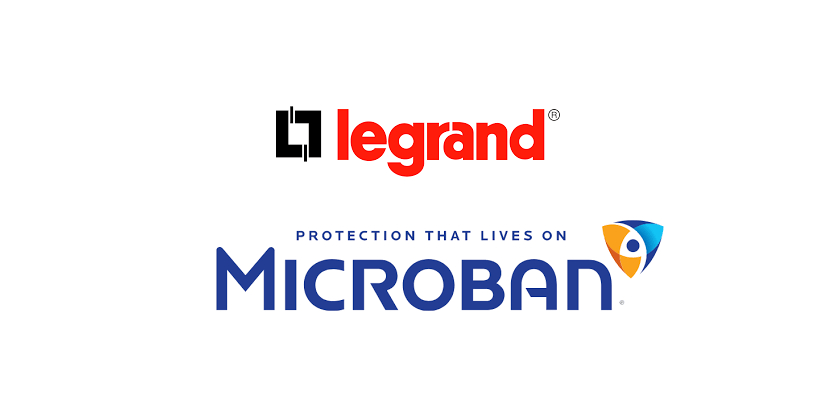 February 7, 2023
Legrand® showcased new technologies for a safer, cleaner home at the 2023 International Builders' Show (IBS) in Las Vegas, NV from January 31 – February 2, 2023. For this year's show, Legrand and Microban®, the global leader in antimicrobial and odor control solutions, are excited to announce an extensive partnership which will begin with the addition of antimicrobial protection to Legrand's adorne Collection of designer switches and outlets.
Legrand's Microban-treated offering – which will include all adorne switches and dimmers (excluding smart devices at this time) as well as the matching plastic wall plates – features innovative technology that works at the cellular level to inhibit the growth of microbes for cleaner and more durable devices. By integrating this technology during manufacturing, the antimicrobial protection will work continuously to drastically reduce stains and odors for the entirety of the product's expected lifetime.
"The adorne Collection has always been groundbreaking," said Manny Linhares, Sr. Director, Product Management at Legrand. "Dedication to exceptional design means finding new ways to deliver life-enhancing benefits. As the world becomes more focused on cleanliness and well-being, we knew Microban would be our perfect partner in offering cleaner designer switches for customers seeking to create cleaner overall spaces."
Steve Lutes, Director of Business Development at Microban agrees. "The Microban team has worked hard to innovate and establish a portfolio of over 25 approved microbial technologies; partnering with great manufacturers like Legrand allows us to extend the benefits of that built-in protection to a broader range of solid products. When you think of all the times you, or your family, touch a given light switch, it's easy to see how applying Microban to the adorne Collection will help keep those devices fresher and lasting longer."
While the initial phase of the partnership exclusively will include product from Legrand's premier collection of wiring devices, additional products and solutions featuring Microban protection are expected later this year.
Visit Legrand in Booth W2464 to see more solutions for connected homes, including the Best of IBS Awards Finalist in the Kitchen and Bath category — the radiant® Wave Switch.