EFC Adds Two New Categories to 2015 Marketing Awards Program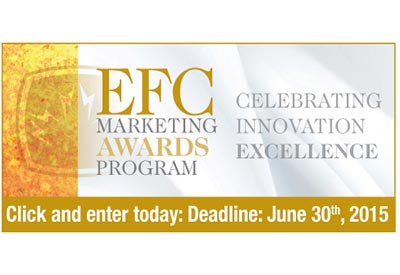 Building on the success of last year's inaugural marketing awards program, Electro-Federation Canada (EFC) is  introducing two new categories for 2015: Corporate Social Responsibility and Click & Order e-Commerce On-Line Ordering Platform.
The two new awards join these existing awards:
•     Merchandising & Display
•     Customer Event/Trade Show
•     Sustainability
•     Integrated Marketing, sponsored by Kerrwil
Application deadline: June 30.
The EFC awards program recognizes excellence in the many areas of corporate activity contributing to the organization success in sales, marketing and branding. The awards are open to individuals and companies of all sizes representing electrical manufacturers and distributors. Organizations must be a current EFC member.
"This awards program showcases innovation in our industry across many products and also increases awareness of our industry to the next-generation of workers," says Jim Taggart, President & CEO, EFC.
"The EFC marketing awards is a platform for our EFC members to share successes unique to the Canadian market and engages manufacturers and distributors that will recognize innovation and fuel new ideas in our industry," adds John Jefkins, Vice President Marketing & Communications, EFC.
Find out more: www.electrofed.com/awards