ESA Honours 2015 Exceptional Electrical Safety Leaders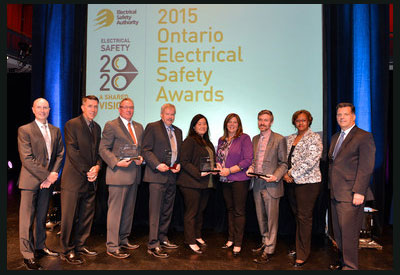 Three organizations have been recognized by Ontario's Electrical Safety Authority for their unique, effective and interactive methods of educating the public and the workforce in electrical safety.
The awards (detailed below) were presented by Brian Bentz, ESA's newly appointed Chair of its Board of Directors, and Angela Coke, Deputy Minister, Ministry of Government and Consumer Services. During the award ceremony, Scott Saint, ESA's Chief Public Safety Officer, gave special recognition to the 2015 Pan/Parapan American Games Organizing Committee for their commitment to electrical safety during an event that captured the world's attention this past summer.
Photo L-R: David Collie, President & CEO, Electrical Safety Authority, Scott Saint, Chief Public Safety Officer, Electrical Safety Authority, Ken Walsh, Chief Engineer and VP Operations, London Hydro, Steve Hibbert, Director of Energy & Building Services, Toronto2015, Cynthia Tetaka, Manager, Corporate Communications, Hydro One Networks Inc., Lisa Williamson, VP, Health & Safety Environment, Hydro One Networks Inc., Brian Buchan, Director of Media, Communications and Municipal Stakeholder Relations, Toronto Hydro, Deputy Minister Angela Coke, Ministry of Government & Consumer Services, Brian Bentz, Chair of the Board, Electrical Safety Authority (CNW Group/Electrical Safety Authority)
Awards were presented to
• Toronto Hydro, for its consumer awareness campaigns aimed at keeping communities safe. Toronto Hydro covers such topics as electrical safety at schools, emergency preparedness events, Brighter Nights community events and other consumer-focused activities.
• Hydro One Inc., for its "Electricity Discovery Centre," a 1,000 sq. ft. travelling mobile centre that educates consumers on electrical safety, including powerline safety as well as energy saving tips. The mobile Discovery Centre had over 45,000 visitors across the province in one year and covered over 12,000 kilometres.
• London Hydro, for its dedication to worker safety through the development of three smart phone applications that provide access to safety information and reporting tools at their employees' fingertips. The applications cover such topics as Substation Access Tools to protect non-technical employees accessing substations, Incident/Deficiency Reporting to improve sharing of incidents which leads to prevention, and the Zapple application, which provides employees with immediate access to a wide variety of health and safety information, emergency contacts and health and safety procedures/policies.
• TO2015 Pan/Parapan American Games Organizing Committee, for its commitment to ensuring that athletes, workers, volunteers and spectators were able to participate in the games free from electrical harm. Through their dedicated commitment to electrical safety requirements, the TO2015 organizing committee ensured public safety at every stage, from construction through to the closing ceremonies.
The awards were established six years ago to formally recognize the contributions of individuals and organizations toward achieving the vision of an Ontario where people can live, work and play safe from electrical harm.