BC Hydro Awards $470 million Contract for Site C Worker Accommodation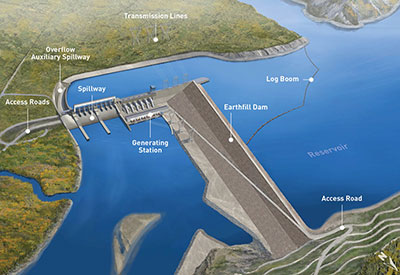 BC Hydro has announced that it has signed a contract with ATCO Two Rivers Lodging Group for the design, construction, partial financing, operation and maintenance of worker accommodation at the Site C dam site. Construction and operation of the worker accommodation camp, an eight-year project, will create 360 positions.
The Site C Clean Energy Project involves buildilng a third dam and hydroelectric generating station on the Peace River in northeast BC. It will provide 1,100 megawatts (MW) of capacity, and produce about 5,100 gigawatt hours (GWh) of electricity each year, enough energy to power the equivalent of about 450,000 homes per year. The project is expected to be completed in 2024 and provide clean, reliable and affordable electricity for more than 100 years.
Two Rivers Lodging Group is a partnership of companies from across Canada. The primary partner, ATCO, has extensive experience in the area of designing, constructing and operating worker accommodation facilities across Canada and elsewhere. Recently, ATCO completed a 1,700-person accommodation village for workers on the Rio Tinto Alcan Smelter Modernization Project and a 600-person lodge for the Kitimat LNG project.
Find out more about the project: https://www.sitecproject.com/about-site-c/project-overview.