NB Power Testing "Smartflower" Solar Energy Device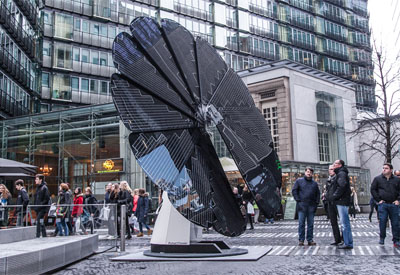 August 11, 2017
The Smartflower is currently on the market in other northern countries with weather patterns similar to Canada. We are currently testing the device at the Energy Control Centre in Marysville to see how well it is able to perform in New Brunswick. The Smartflower is the first of its kind in New Brunswick and will supply energy to the building while we measure its output and performance.

"The Smartflower product is an exciting development that provides a self-contained solution for consumers who want to invest in green energy to supplement their energy usage," said Tony O'Hara, Chief Technology Officer and Vice President of Engineering.
This is just one of the many forms of technology NB Power is looking at to meet the needs of our customers. In the future, we are looking to provide more and more products and services for New Brunswickers who want to integrate green energy in their households.

"It is very important that NB Power be a leader in the promotion of renewable energy sources. This is a small example of how we are doing just that," O'Hara said.
SmartFlower solar panels move on a dual axis so they continually face and follow the sun, making the system up to 40% more efficient than a rooftop installation.
One SmartFlower produces the equivalent of a 4 kW rooftop system – unprecedented for a stand-alone solar product. Its harvested energy can also be stored with integrated batteries and synchronized with smart home automation via mobile devices, freeing owners from reliance on the grid. Since launching in Europe in 2014, over 1,000 units have been installed in 20 European countries, and SmartFlower has won a collection of awards, including the Green Good Design award founded in Chicago, for exceptional engineering and inspiring a sustainable universe.
safety: at wind speeds of 54 km/h (33 mph), sensors tell SmartFlower to retract its petals to avoid damage. When the wind drops, the petals automatically unfold again.
mobility: it is self-contained and portable, allowing owners to take it with them when they move.
Photo courtesy of SmartFlower.
https://www.nbpower.com/blog/en/posts/2017/july/flower-power/