ESA Signs Leadership Accord on Diversity, Equity & Inclusion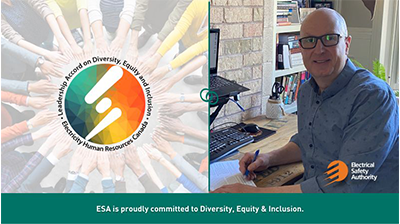 June 2, 2021
"David Collie, ESA's President & CEO, signs the new Leadership Accord, proudly committed to wider Diversity, Equity & Inclusion (DEI) scope to include all underrepresented groups as a part of ESA's Corporate Organizational Excellence Strategy and very comprehensive DEI program," said ESA via LinkedIn. "The new Leadership Accord is an extension of the Electricity Sector Gender Accord previously signed by ESA in 2017. Together, we can make the world more equitable, diverse, and inclusive."
The Leadership Accord on Diversity, Equity and Inclusion is a public commitment by Canadian employers, educators, unions, associations, and governments to promote workforce diversity within their organizations. Developed and launched by EHRC in 2017, the Accord proposes united action to:
Expand the breadth and depth of the skilled workforce;
ensure that under-represented groups are informed of the opportunities available in the sector of their choice;
and, once employed, are fully supported and provided with equal opportunities to grow and develop to their full potential.
The Accord provides a real opportunity for all stakeholders to actively engage in building a workforce that is truly representative of Canada's people.
Canada's electricity workforce includes much less representation of women, Indigenous people, racialized people, persons with disabilities, LGBQ+, gender diverse people and newcomers to Canada than present in our overall population. The barriers they face that limit advancement within their careers, including discrimination in hiring, lack of support and mentorship once hired, or a non-inclusive behaviour and workplace culture. Integrating under-represented groups into the workplace requires more than just opening the doors to them: there must be a paradigm shift involving focused attention and intentional effort. Few of us reach our goals without the support of others. Prioritizing under-represented groups takes leadership and commitment from industry, educators, and policymakers—as well as individual ownership to ensure our workforce becomes truly reflective of the society we live in.