E.B. Horsman & Son Named One of Canada's Best Managed Companies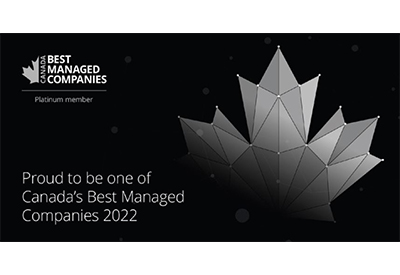 May 19, 2022
E.B. Horsman & Son (EBH) announced that it is a 2022 winner of Canada's Best Managed Companies Platinum Club designation, having retained its Best Managed designation for thirteen consecutive years.
E.B. Horsman & Son was recognized for overall business performance and sustained growth with the prestigious Canada's Best Managed Companies designation. The 2022 Best Managed program award winners are amongst the best-in-class of Canadian owned and managed companies with revenues over $50 million demonstrating leadership in the areas of strategy, capabilities and innovation, culture and commitment, and financials to achieve sustainable growth. Now in its 29th year, Canada's Best Managed Companies remains one of the country's leading business awards program recognizing Canadian-owned and managed companies for innovative, world-class business practices. Every year, hundreds of entrepreneurial companies compete for this designation in a rigorous and independent process that evaluates the caliber of their management abilities and practices.
EBH continues to be an agile and adaptive culture founded on the guiding principles of their core values. They have an Employee Share Ownership Program and high employee engagement, which contributes to an environment where empowered teams work collaboratively on their strategic plans and investments in digital business enablement. An enhanced digital experience for employees and customers included a Digital training platform which helped their employees grow personally and professionally resulting in improved customer service. An initiative that saw the expansion of an Industrial Services Group will move their company in a new direction to better support their Industry in Western Canada.
"It has become increasingly important for businesses to foster collaborative workplaces where employees are empowered to make valuable contributions to their organizations," said Lorrie King, Partner, Deloitte Private and Co-Leader, Canada's Best Managed Companies program. "This year's Best Managed winners embraced a people-first mentality, enabling employees to cultivate important capabilities and integrating diversity, equity, and inclusion initiatives into their core strategy. By prioritizing employee wellbeing and championing professional development, these companies have been able to harness an engaged talent pool to explore new ventures and set the course for continuous improvement and growth."
Applicants are evaluated by an independent judging panel comprised of representatives from program sponsors in addition to special guest judges. 2022 Best Managed companies share commonalities that include (but are not limited to) putting their people and culture at the forefront, focusing on their ESG strategies and doubling down on accelerated digitization.
"Consistently being named Best Managed fosters a mindset to set plans, adapt if necessary, and pursue success whether it be in the face of Covid-19, hybrid work environments, increased demand, or Supply Chain headwinds," said Tyson Carvell, VP of Marketing, E.B. Horsman & Son. "Keeping our Business Fundamentals in focus over the past two years to achieve results that are recognized by a program that is held highly by our customers, employees and peers, is an accomplishment that we are all proud of."
"The 2022 Best Managed winners exemplify innovation, adaptability, and resilience in the face of uncertainty," said Derrick Dempster, Partner, Deloitte Private and Co-Leader, Canada's Best Managed Companies program. "Over the past year, these forward-forging companies have pivoted to successfully respond to challenges and capitalize on new opportunities, leveraging industry-leading competencies to maximize their investments and drive sustainable growth."
2022 winners of the Canada's Best Managed Companies award will be honoured at galas across the country. The Best Managed virtual symposium will address leadingedge business issues that are key to the success of today's business leaders.
The Best Managed program is sponsored by Deloitte Private, CIBC, The Globe and Mail, Salesforce, and TMX Group.