IDEAL National Championships for Electrical Apprentices took Place this past Weekend in Tampa Florida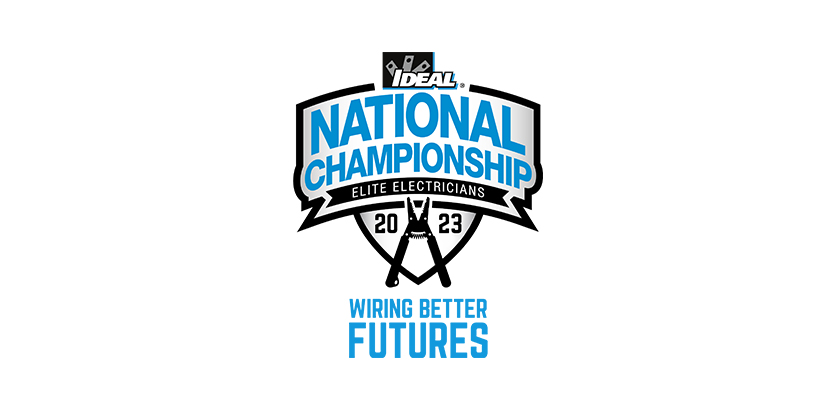 October 30, 2023
Serving the electrical industry for over 100 years and known as The Electrician's Champion™, IDEAL Electrical™ is showcasing the rewarding opportunities available for future electricians through an annual competition that celebrates top apprentice talent and the skills they're bringing into the electrical trades. The eighth annual IDEAL National Championship took place on Friday, Oct. 27, at the Tampa Convention Center in Tampa, Fla. A diverse pool of 10 apprentices earned a trip to the IDEAL National Championship during regional events across the United States and competed for their share of $80,000 in cash and prizes.
"We are facing the largest need for electricians in our lifetime to meet demands for electrification but are navigating a critical talent shortage. For every five electricians who retire from or leave the trade, only one takes their place," said Carmen Cardillo, VP/GM of IDEAL Electrical, North America. "This year's competition is all about the apprentices. This fun yet challenging competition shows the wide range of projects electrical apprentices are pursuing every day – and we hope seeing them in action inspires others to follow this rewarding path."
The theme for the 2023 IDEAL National Championship is "Wiring Better Futures" in honor of the emerging apprentice talent and the impact they will have on the electrical industry. The competition was once again hosted by HGTV star Chip Wade as well as PBS's Scott Caron. Apprentices completed in two, in-depth electrical challenges that test for speed, skill, safety and accuracy.
As an added bonus, competitors were the first to test new IDEAL Electrical products, including:
15-Foot Fish Tape: A small, easy-to-use fishtape that's great for quick wire pulling jobs like remodels and DIY installs.
Yellow 77®Aerosol Lubricant: One of the most popular wire pulling lubricants available to electricians now becomes easier than ever to apply. Yellow 77 – known for making wire pulling smooth and safe, has been reformulated in an easy, sprayable can.
2023 IDEAL National Championship Competitors
Apprentices at the Finals event earned their way there by demonstrating their range of knowledge at one of four 2023 regional tradeshows completing a rough-in electrical wiring challenge.
This year's apprentice competitors include:
Emma Becker, Denver, North Carolina
Herman Vasquez, West Palm Beach, Florida
Devin Slifer, Greenup, Kentucky
Jose Renteria, Elk River, Minnesota
Luis Sanchez, Chicago, Illinois
Jake Tribby, Beaver, Ohio
Dino Gualandri, LaSalle, IL
Hugo Ponce, Houston, Texas
Agapito Arvizu, West Palm Beach, Florida
Donald Reid, Brandon Mississippi
Prizes included $40,000 for first place, $20,000 for second place and $10,000 for third place.
To watch videos from past competitions and follow the stories of returning apprentice competitors, view the IDEAL Electrical "Wire to Wire" video series.