COREngineering Programmer and Electrician, Justin Harris on his Pathway to Success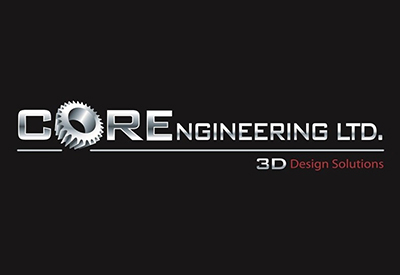 July 30, 2019
By Blake Marchand
Justin Harris is a Programmer/Electrician for COREngineering, a New Brunswick based mechanical engineering firm that specializes in the design of custom equipment. Some of their projects include specialized conveyors, power factor systems, palettizing systems, pneumatic drop testers, as well as panel builds.
As you will see in the interview below, Harris is the only electrician at COREngineering. As such, he is responsible for everything electrical, from quotes to field service, programming, wiring, pneumatics, and mechanical assembly.
Following high-school, Justin worked for several years moving from labour job to labour job including a stint in the Alberta oil fields. "I eventually got tired of breaking my back everyday," he noted, and went back to school to upgrade his math and biology credits so that he could enroll at Holland College in the industrial electrical program. Harris told Panel Builder & Systems Integrator that he had very little knowledge about the industry when he began in the program, which, understandably, presented a considerable challenge.
"My first year was a great challenge as I did not know anything about electrical, including not knowing what AC or DC stood for, or even the difference between a volt or an ampere," he explained, "After a challenging year of school, I passed my block 1 exam and achieved my first block." Despite the challenge, Justin was committed to furthering his education and entering the electrical industry, "I did not find a job in the electrical field after the first year of school, but I didn't give up!"
Harris returned to school to get his industrial block 5. With a base knowledge of the electrical industry he had a very successful year, which included receiving 109% in his PLC course with the help of a bonus project few students had previously completed successfully. He also participated in the school's skills competition, finishing in third place. With two years of formal training in his pocket, Harris took a job with Olympia Electric in PEI where he remained for a year before returning to school and furthering his education.
"I wrote my block 2 and passed with excellent marks and then went on to work with Chas M Stewart Electrical and Alarms," he explained, "After a bit I was getting bored of doing residential and commercial wiring procedures, so I moved to bigger better things." Which is when he found a job with COREngineering, and since has gained a very extensive knowledge from training courses in safety such as arc flash, guarding, robotics training, and programming in robotics as well as completing his block 3.
Can you tell us a little about your work with COREngineering?
I found a job with COREngineering in Moncton New Brunswick. So, I relocated to Moncton and started work in January 2018 doing everything from quoting, sourcing, designing, building, and commissioning machinery that we custom design for clients. We do anything and everything from design, conveyors, vision system, power factor correction, you name it.
Why did you choose to pursue a career in the electrical industry?
Well to be honest, I always wanted to be a police officer while growing up but that changed over the years. When I was out in Alberta back in 2006, while working on the oil rigs, I watched an instrumentation electrician come in and do some work on a boiler and was kind of interested. When I moved back to PEI I did a bit more grunt work and decided enough was enough and to get into industrial electrical. It wasn't until later I realized that I needed to be in mechatronics in order to do the instrumentation exam, so I stuck with the industrial because I really enjoyed the course.
What are some of the challenges associated with your role as Programmer/Electrician with COREngineering?
I faced a steep learning curve when I took on this position at COREngineering, I was fair warned at my interview. I am the only electrician at the company, so I do everything from quoting to completion for electrical. I do quotes, electrical design, ordering, wiring, pneumatics, programming, even do mechanical assembly as well. With me being the only person here, and the knowledge I had when I started, google, codebook, speaking to people to educate myself and forms became my best friend. There is a lot of knowhow in electrical, between smarts and hands on, such as common wiring practice, and learning new software for PLC, vision systems, and with robotics coming into the spotlight in industries that takes things to a whole new level. I learn everyday and learn it with great pride, because I do it on my own, asking a few questions and doing a lot of reading.
One piece of advice I would like to share is Reading brings knowledge and wisdom to oneself, I would never be where I am without my father telling me "pick up a book and don't be afraid to learn something"… this has stuck in my head since high school and it benefited me to a great extent in terms of learning challenges.
How have PLCs progressed in recent years? What aspects interest you/have an impact on what you do? What is next in terms of advancements for PLCs in the next 5 years or so?
PLCs have advanced quite a bit in my time of using them, including size, complexity, and functionality, but if you want to compare now to the early 90's they have progressed greatly in cost, speed, memory, functionality and much more. In the next 5 years, many PLC companies will need to be hoping on board with SCADA systems, interconnectivity and be Industry 4.0 ready for the new advancements the world is trying to accomplish.
Considering they provide similar functions, can micro-PLCs replace programmable relays in some applications?
Yes, PLCs were originally developed to replace relays and since, have quickly advanced into more complex smarts with many new capabilities. Cheap controllers, called micro PLCs, still are great for relay-replacement. But they also offer many functions that were once available only in large PLCs, such as math calculations, subroutines, and analog control, more memory, alarms, diagnostics, counters, IO and more. Micro PLCs provide many functions in a small component making them great for simpler applications.
Blake Marchand is an Assistant Editor with the Kerrwil Electrical Group