IBEW Members Shine at IDEAL National Championships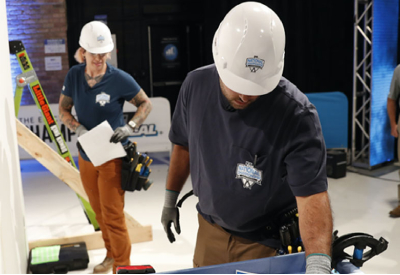 March 12, 2021
Courtesy of the Electrical Worker, International Brotherhood of Electrical Workers
Like most major events over the last year, the COVID-19 pandemic put serious restrictions on the Ideal National Championships, which annually pits the top electricians from the United States, Canada, Australia, China, and Mexico against each other in skill competitions. Organizers dramatically scaled back this year's event to comply with health guidelines.
But that didn't stop IBEW members from continuing to dominate.
Elgin, Ill., Local 117 journeyman wireman Greg Anliker, who is sometimes referred to as the Michael Jordan of the competition after winning the individual pro title in three of the previous four years, partnered with San Francisco Local 6 apprentice Noreen Buckley to win the three-team competition, held in a Chicago television studio with no spectators in early October.
Local 6 journeyman Kristen Clayton combined with Aurora, Ill., Local 461 apprentice Alex Cook to finish third. The pandemic wiped out all regional qualifying tournaments and the national championships, which had been scheduled for November in Nashville, Tenn.
Instead, organizers invited six top wiremen and apprentices to a "finals" championship. A blind draw put them on a 2-person team consisting of one journeyman and one apprentice.
Anliker and Buckley finished far ahead of the competition with 249 points, 63 more than the second-place duo. That earned both a trip to 2021's national finals, which are scheduled to be held this coming December in Nashville.
Competitors were able to earn a maximum of 100 points on each event, with 70% of the score weighted toward workmanship, 20% toward safety – as judged by on-site inspectors – and 10% toward speed. All the entrants tested negative for COVID-19 after arriving in Chicago.
"Even if it had been halfway across the country, I would have gone," said Anliker, who had to drive only a little more than an hour to Chicago. "It's always a great experience. We've all been laying pretty low because of this COVID thing. It was a nice little weekend getaway."
Anliker said he's pleased event organizers were able to hold some kind of event during the pandemic. It helped keep the Ideal National Championships, which were in their fifth year, in the public eye. The 2020 event was televised on a tape-delayed basis by ESPN2, just as other national championships have been. ESPN play-by-play man Jason Benetti, who also is the lead announcer for MLB's Chicago White Sox, served as the host.
Anliker's experience and expertise were evident throughout the competition, but he also gave credit to Buckley, who he had never met until everyone arrived in Chicago.
"She was a complete all-star," he said. "She rocked it."
Buckley and Clayton both were in the competition at the recommendation of Local 6 training instructor Christie Peterson.
Buckley confessed to having some jitters in the days leading up to the event, and that only intensified after learning she would be paired with Anliker. But that feeling went away once she put on the tools in Chicago.
"By the time the competition started, all of us were ready to jump in and do the work and show what we could do," she said. "At that point, the nerves weren't really there. It was more excitement and the competitiveness kicked in."
Buckley is originally from the Philadelphia area and graduated from La Salle University with a bachelor's degree in psychology. But she later realized she wanted to work with her hands and live on the West Coast.
She headed to San Francisco and was accepted into the Local 6 apprenticeship program. Both she and Clayton are active in Local 6's RENEW chapter, the IBEW's initiative to develop young leaders in the union.
"I was just glad that Kristen and I got to represent the women [in the IBEW]," Buckley said. "We have the skill, we have the talent and we put in the work. I don't think a lot of people know about the competition but it's great that it happens."
Clayton planned to teach art but worked as a bartender and some other jobs after high school. She decided to pursue a career in the trades after seeing how much her future husband enjoyed his work as a member of the Iron Workers. She earned her journeyman status last year.
"It was humbling because I thought I was going to do a lot better [in Chicago] but I ended up learning a lot more than I expected," she said. "I know there is a lot more for me to learn. It will be an ongoing journey for me in the electrical business."
Added Peterson: "Noreen always has got a smile on her face. She super personable and she really pays attention in class. She comes up with amazing questions. She's doing her homework and paying attention. She wants to make this a career.
"Kristen is another amazing woman. She was super helpful to her classmates and her brothers and sisters. She's got a great attitude. They are very similar and do so much for our local."
Cook's father has owned an IBEW signatory contractor for decades. The younger Cook served in the U.S. Army before beginning his apprenticeship and is scheduled to top out in May. He was recommended for the show by Local 461 officials, including Business Manager Joel Pyle.
Like some of the other IBEW members who participated, Cook noted the four events were centered primarily on residential work. Most IBEW members work on the more industrial construction side and he is no different, he said. That proved to be a big adjustment.
"On top of that, you've got five cameras in your face while you're trying to rough-in an outlet," Cook said. "In a competition like that, when you're working so hard and so fast, it's the little things you sometimes lose sight of, the small details.
"But it was so fun. It was a blast and everyone was supportive of each other. We're on a group chat and we still talk to this day."
Witnessing Anliker's overall excellence was a reminder of the importance of preparation, Cook said.
"You can tell definitely tell from watching him that 90% of his success comes from before he even steps on the field," he said. "We got a sheet telling us what all our tasks were going to be. But his experience, along with his quick-thinking ability and adjusting to the layout, gave him an advantage before he even touched a tool."
Photo: Kristen Clayton (background) from San Francisco Local 6 combined with Aurora, Ill., Local 461's Alex Cook to finish in third place in this year's Ideal Championships. A slimmed-down competition of the annual event was held in 2020 due to the COVID-19 pandemic.
Photo by Ideal.
Courtesy of the Electrical Worker, International Brotherhood of Electrical Workers