You'd Be Surprised How Fast the Years Fly By: My Challenges as an Apprentice and How They've Benefited my Learning Experience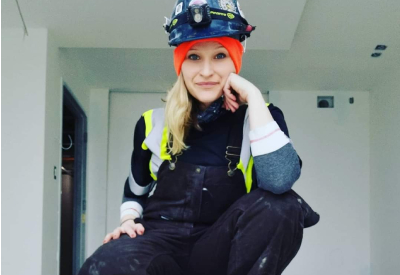 November 18, 2021
By Shannon Tymosko
As I come to the end of my second year of apprenticeship, I find myself reflecting on the last 2 years and wondering, how it went by so fast. I continue to find myself having similar feelings to when I started this journey. Questioning if I am going to make it through, and in complete awe that I have even gotten this far. In these moments I remind myself to only look at one day at a time, and that it is my job as an apprentice to not know everything, but to learn whenever possible. As an advocate for the skilled trades, youth, women, and people everywhere, I get asked a lot of questions about the trades, including advice for new apprentices. In this article I am going to share some advice for apprentices new and old, that I believe are beneficial to my own learning.
The thing I found and still find most difficult is verbiage. It's like being a 3-year-old all over again learning new words, but grateful I can sneak away and double check with my friend Google. Not only do you need to learn what every tool, device, piece of material, and gadget is named, you also discover that half of the items have 1 or 2 additional names, plus 1 nickname; talk about confusing. Don't be afraid of asking for a description of the unknown item, chances are high you know what it is, but stuck on the word. Therefore, I believe it is extremely beneficial to listen to any trade related meeting, or conversation and follow up with your Journeyman with things that were new to you for additional learning.
The most important pieces of advice I can give you is your safety is number one! As the newest person on the job site, you are statistically the most likely to get hurt. Always double check everything; do not trust that someone else has 'made it safe'. Also, some things are outside of your control, as you learn how to use different tools and equipment you also learn the risks involved and how to avoid/prepare for them. For example, when drilling through concrete, you want to be aware of potential rebar that could cause the drill to twist and pull. But what is within your control is PPE. PPE is not affective if it's not worn properly or not worn at all!
Now you must remember the worksite is your classroom and you have more control of your learning than you know. That is why it is so important to advocate for yourself and your own learning. Practice makes perfect, and it is okay to get placed on the same job for a period of time. However, if you remain doing the same task for months, or even years, it may be time to speak up and ask for something new to learn. Don't forget that at the end of your apprenticeship, you are required to write a test, and getting stuck doing the same thing does not help you prepare for this. You would be surprised how fast the years fly by.
Additional to advocating for yourself it is important to ask questions. Keep in mind it is your job not to know everything and saying so is better than pretending you do. Remember this is your learning, your experience! There really is no stupid question and it is your job to be curious, ask and learn.
Be prepared: you don't always carry around your whole tool bag and most Journeyman will tell you to make sure you always have the basics for any job; Voltage Tester, Linesman, Multi Screwdriver, Electrical tape, knife, measuring tape, marker/pencil. So, whatever your trade is find out the basics and always arrive as prepared as can be.
However, one thing about the skilled trades is there are no two jobs alike and therefore it's hard to be prepared 100% of the time for all the different situations you could encounter. Therefore troubleshooting, improvising and creativity are just some of the skills used regularly by skilled trades workers. Often there is more than one way to get a job done, and as a woman I frequently must adjust some of my techniques due to size and strength. This requires me to look at a situation and work smarter, not harder, and that is okay!
The construction site is filled with a variety of characters young and old, with a vast amount of knowledge. It is so valuable to consider that they are your textbooks so take in all their techniques, tips, and tricks. No matter how silly you think what they are teaching you may be, there will be one time in your career when you'll find yourself using it, and grateful too. It's ok to go back to what your preferred technique is but remember preferred does not always work and troubleshooting takes over.
Another important thing I have learned over the years, not just in construction, is I always welcome and encourage feedback. I cannot change or make better something that I do not know needs attention. But remember folks, there is a difference between constructive and destructive feedback. Some people find it difficult to receive feedback, but perhaps try taking on this point of view. Feedback can be both hard to give and receive. As a leader it can be difficult to tell someone you care about things could be done better. Consider this… when someone is still making efforts to give you 'constructive feedback,' it means they still care about you, your growth, and your development!!! It's when the feedback stops rolling in, or worse it turns to destructive feedback, that I would be concerned!
On to the physical demanding aspects of my jobs. I am not going to sugar coat anything; the construction site is a place for someone who is able and willing to work hard. However, we need people with brute strength and some with small wrist to fit in pot light holes, there is a place for everyone. It's not always an easy job, but if you have the right attitude, you will see that having a physical job leads to a healthier mental and physical health, all while building your confidence. Check out my previous article Confidence is Built by Competence (electricalindustry.ca)
Lastly it is important to remember what is going to make you most successful are all those skills you listed out on your resume. You want to demonstrate these skills through your work daily. The truth is most things can be taught and learned by most people, but what you cannot teach is character and strong work ethic. Things like punctuality, teamwork, communication, hard worker, positive attitude, organization, preparedness, leadership, interpersonal skills, time management, critical thinking, integrity, and honesty are all things you want to keep in your tool belt, always!