Case Study: K&M Holdings, UltraLED Dual Selectable Wide Body Vapor Tight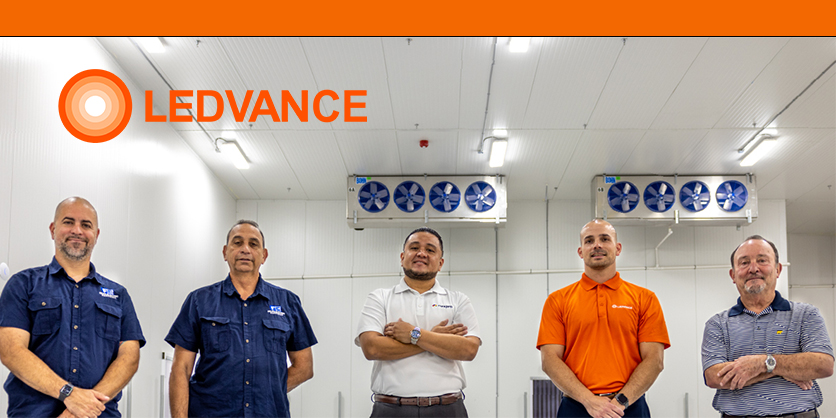 April 25, 2023
| | |
| --- | --- |
| Goal: | To install lighting in a newly constructed 10,000-square-foot floral cooler space owned by K&M Holdings, LLC in Doral, FL that can reliably operate in the setting's demanding 40-degree environment while delivering high-quality, energy-efficient, long-lasting, and low-maintenance illumination |
| Products Installed: | 70 SYLVANIA UltraLED Dual Selectable Wide Body Vapor Tight Fixtures from LEDVANCE |
| Benefits: | Easy and fast installation The high-efficiency, energy-saving LED fixture delivers up to 150 lumens per watt Convenient selectable wattage and lumen output options offer enhanced flexibility in the field based on the needs of the application Integrated motion sensor automatically dims down to 50% if the space is unoccupied and returns to full brightness when someone enters the space for added energy savings Operability within a temperature range of -4°F to 104°F ensures the fixture's reliable performance in some of the most demanding environments 80+ CRI and uniform distribution enhances visibility and lighting coverage. |
The Situation
Valued at an estimated $5 billion, the U.S. floral industry is robust, and the range of floral varieties and colors available to consumers is extensive. Much goes into ensuring that the flowers people routinely present to friends and loved ones on holidays, special occasions, and even just every day are housed in and distributed from a consistently cooled environment so that they remain fresh and vibrant.
Located in Doral, FL, leading floral distributor K&M Holdings, LLC recently constructed a brand-new floral cooler facility and needed a powerful lighting system able to deliver reliable, high-quality illumination within the challenges of a continuously cooled setting.  Happily, the team's selection of SYLVANIA UltraLED Dual Selectable Wide Body Vapor Tight LED fixtures from LEDVANCE fit the bill perfectly and has helped position K&M Holdings for high-performing, energy-efficient operations for years to come.
The Solution: UltraLED Dual Selectable Wide Body Vapor Tight
In January 2022, team members from leading electrical distributor Gexpro and electrical contracting firm Felipe Electric Services were brought in to determine the optimal lighting solution for the new two-story building's dedicated 10,000-square-foot floral storage space, which was cooled to 40 degrees.
"While there was no lighting yet in the space because it had just been built out, we knew that roses and other flowers would be stored there and that we'd need 80-100 footcandles of light at the floor," said Bob Layne, Rexel/Gexpro Lighting and Controls Specialist covering Florida's southern and western region. "As South Florida is one of the largest rose and flower hubs in America, our goal was to help ensure the installation of an effective lighting system in the floral cooler space in time for Valentine's Day so that the facility could participate in one of the biggest rose and flower-related holidays of the year."
After researching their product options and working closely with LEDVANCE Senior Sales Representative Ryan Mager and Gexpro Outside Salesperson Edgar Portobanco, Layne and the team unanimously selected the SYLVANIA UltraLED Dual Selectable Wide Body Vapor Tight from LEDVANCE to light the space.
"The 80+ color rendering index (CRI) enables the facility workers to see the bright colors of the flowers they're handling. The high-efficiency, energy-saving LED fixture delivers up to 150 lumens per watt and incorporates an internal motion sensor that automatically dims down to 50% if the space is unoccupied and returns to full brightness when someone enters the space to pull flowers," Layne said. "Florida is typically very warm and given how much energy is consumed by operating the HVAC systems 24/7 to keep the flowers fresh, we felt that any energy we could save the owners on their lighting would be beneficial. LEDs are both extremely energy-efficient and emit very little heat to offset the cooling."
The fixtures incorporate convenient selectable wattage and lumen output options, enabling users and installers to choose the most appropriate wattage (either 120, 150, or 180 Watts) and lumen output level (either 18,000, 22,500, or 27,000 lumens) to suit their needs right in the field. "Using the convenient layout tool available on the MySylvania.com website, we selected a lumen output of 22,500-lumen and a color temperature of 5000K to ensure optimal lighting of the space," Layne said.
The fixture's ability to operate within a temperature range of -4°F to 104°F helps ensure its reliable performance in the facility's floral storage area cool environment. "This facility required a fixture that can withstand harsh conditions for an extended period of time," said LEDVANCE's Mager, who noted that cool-storage facilities such as this can also be subject to humidity, especially on the ceilings. For that reason, he said, "Our SYLVANIA UltraLED Dual Selectable Wide Body Vapor Tight LED is ideal for use in food service applications, car washes, open-air venues, and other spaces where rainwater or condensation are concerns. The fixture's durable design, reliable performance, and availability in higher lumen packages to meet footcandle requirements make it an ideal product in these settings. Users can count on this fixture to come through every time."
A Win-Win Result
"Between what we had in our own stock and a quick call to our contacts at LEDVANCE for additional product, we were able to quickly secure the 70 SYLVANIA LED vapor tight fixtures we needed for this project, and installation took just around 2 weeks, enabling us to meet our Valentine's Day objective," shared Gexpro's Portobanco of the project's successful outcome.
"The installation process was easy," added Alejandro Vega, Supervisor for Miami-based electrical contractor Felipe Electric Services. "The fixtures come with an installation kit that makes things trouble-free. You simply mount the clips into the ceiling and then snap the fixture up into them. In fact, the process was so easy that we were able to install each fixture using just one crew member instead of the usual two."
"The SYLVANIA UltraLED Dual Selectable Wide Body Vapor Tight LED fixture from LEDVANCE is a high-quality, easy to use, and cost-effective product, and its selectable wattage and lumen output features deliver an additional degree of versatility," Vega continued. "The fixtures exceeded the end users' expectations, and they're extremely happy with them."
Jorge Felipe, master electrician and owner of Felipe Electric, agreed. "The fixtures were very easy to install, and their internal motion sensor offers additional opportunities for energy savings," he said. "The color of the light is also perfect and makes the space comfortable and inviting to work in." Overall, Felipe said, "this was a great project and everyone was happy with the quality, performance, and price point of the fixtures."
"The facility's new lighting is bright and natural-looking and has a nice, uniform distribution that fully and evenly lights all parts of the space for optimal visibility," confirmed Gexpro's Layne, who added that the project was so successful that his firm was invited to propose lighting solutions for other parts of the building as well.  "Overall, the SYLVANIA LED fixture was a great product for this application and delivered a win-win for all parties involved."
Related Article: