The National Electrical Trade Council Launches State of the Art Hoisting and Rigging Training in Ontario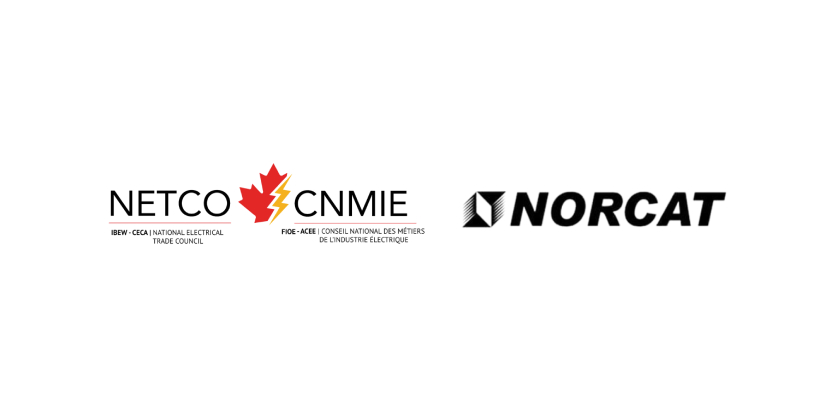 January 18, 2023
Groundbreaking hoisting and rigging training is poised to be offered in Ontario International Brotherhood of Electrical Workers (IBEW) training centres following development of virtual reality training procured by the National Electrical Training Council (NETCO) and developed by Sudbury based NORCAT.
As part of the Ontario Skills Development Fund round two, NETCO has worked with the team at NORCAT to create one of the most immersive training programs for this facet of safety training that will be rolled out this week after IBEW training directors complete their training in Kitchener, Ontario, hosted by IBEW Local 804.
"This project is one that has been very unique to work on and watch come to fruition," explained NETCO Executive Director Chris Swick. "This training will enable training centres, regardless of size, to offer this important training to their members. Coupling it with the virtual reality technology, trainees will be virtually located into the actual work site and gain comfort in an environment that is so close to the real thing but does not involve the cost of actually having a crane at the training centre, eliminates all risks and hazards, and develops confidence and competence in the workforce," said Swick.
"In my years of experience as a training director, this is one of the most immersive training programs I have seen, NORCAT certainly hit this one out the park," said Swick.
"This blended learning hoisting and rigging training program combines instructor-led training with cutting edge VR learning technology to bring world-class health and safety training to workers across Ontario," said Jason Bubba, Chief Operating Officer at NORCAT. He added, "IBEW members will be able to participate in virtual experiential training in a safe, true-to-life environment which brings in-the-field training to the worker. We are proud to have had a part in the development of this program in an effort to enhance worker training and safety."
This Employment Ontario Skills Development project, led by NETCO, is funded in part by the Government of Canada and the Government of Ontario.
Earlier investments included the launch of Virtual Reality Electrical training for IBEW apprentices that was showcased at the recent Level Up Career Fairs in Ontario and is currently available at IBEW training centres in Ontario, with the hopes to offer it across the country.
"None of this would have been possible without government support and we look forward to more initiatives to ensure IBEW electricians are armed with the best training tools in the country", said Swick.
You can find a demonstration video of the hoisting and rigging training HERE.
You can find the article we did on NETCO's apprentice VR training HERE.