New Littelfuse Knowledge Center Helps Customers Prevent Ground-Fault Hazards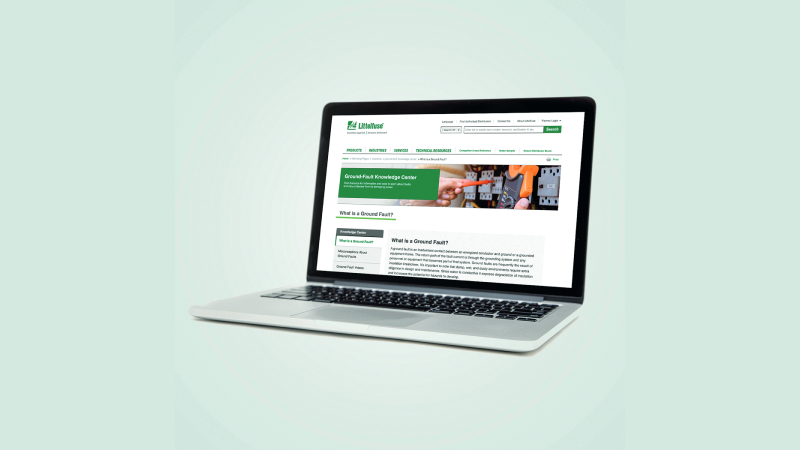 December 2, 2022
Littelfuse, Inc. introduces a new ground-fault knowledge center (Littelfuse.com/What-is-a-Ground-Fault) for engineers, electricians, maintenance workers, and others to create a safer electrical environment. The resource portal provides educational material including defining ground faults, explaining misconceptions, and offering solutions on how to prevent ground-faults. This information ultimately helps workers minimize the damage to electrical equipment when low-level phase current returns to the supply transformer through a ground-return path.
"Ground-fault protection is an important consideration in the design of industrial distribution and utilization systems," stated Debra Jayson, Littelfuse Industrial Business Marketing Director. "The majority of electrical faults are ground faults, and with this new knowledge center, Littelfuse can educate people to help increase workplace safety and prevent damage to electrical equipment."
The Littelfuse ground-fault knowledge center includes:
What is a ground fault and the purpose of grounding
The different types of ground faults and how to prevent them
Misconceptions regarding ground faults
What are ground-fault relays and how do they work
Benefits of using a grounded system over an ungrounded system
What are special-purpose ground-fault circuit interrupters
Ground-fault applications, videos, data sheets, and more
To learn more about ground faults and ground-fault protection visit Littelfuse.com/What-is-a-Ground-Fault. For more information on industrial products, visit the Littelfuse website at www.Littelfuse.com/Industrial or call the technical support line at 1-800-832-3873.