The Implementation of Innovative VR Training at IBEW Training Centres with George Kardaras of Local 586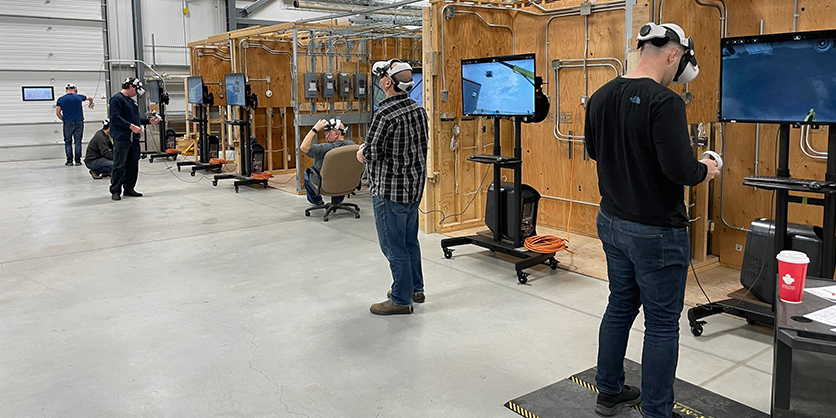 April 25, 2023
By Blake Marchand
The National Electrical Trade Council (NETCO), supported by International Brotherhood of Electrical Workers (IBEW) and Canadian Electrical Contractor Association (CECA), has been developing state of the art virtual reality training courses over the past couple years with the support of the Ontario and Canadian governments. The initiative is in partnership with IVRY Technologies, a division of IDEAL Industries and NORCAT to develop innovative electrical training courses using Oculus VR headsets. The first course they launched was for a pre-apprenticeship program (VET), followed by a Hoisting, Rigging, and Moving course for apprentices and seasoned journeypersons. The latest course being deployed by IBEW is on fire alarm systems, which is a collaboration between NORCAT and ECAO (Electrical Contractor Association of Ontario).
The Hoisting and Rigging course, developed with NORCAT, was launched in January of this year, as NETCO began rolling out their VR training courses at IBEW training centres in Ontario. The VET (Virtual Electrical Training) program for apprentices began rolling out in 2022. The program was initiated with Skills Development funding from the Canadian and Ontario government, which is why the pilot program began in Ontario, but the intention is to make it available across the country.
"VR training will assist electrical apprentices in getting proper training that was developed using Canadian standards, in a safe virtual environment. This type of training will eliminate any sort of risk for a new apprentice and will cut down material waste in training centres, and eventually more VR modules will be added to the curriculum," commented NETCO Executive Director Chris Swick at the time.
The VR/AR training is now being implemented at Ontario IBEW training centres, we spoke to George Kardaras, Training Director for IBEW Local 586 Ottawa to gain more insight into the implementation. Kardaras is a Master Electrician who worked in the trade for over 20 years before becoming an educator.
What are the Main Benefits of AR/VR Training From your Perspective?
"The big one is no consumables," said Kardaras. Training centres go through a lot of equipment and material that has to be recycled as part of the training process, which, beyond the cost of material, also limits the number of reps apprentices can get. The VR training allows them to save some money and avoid the bulk of the waste.
"The other benefit I would say is accessibility. We have a lot of members that are kind of remote, to get to our training centre can be difficult if you're working a full day and then coming here."
The virtual component takes a bit of pressure off people and adds an element of flexibility to the training. However, hands-on work is still critical to training.
"Virtual will never replace training. Traditional electrical training is very hands on, that's never going to go away regardless of how good VR gets. It's more of a compliment to the intense training that it takes to become a well-rounded, knowledgeable electrician."
Essentially, VR is another tool to make training more accessible, increase safety, and to cut back on material waste, which is a cost savings for training facilities. The goal with the introduction of VR, as Kardaras says, is ultimately to contribute to developing well-rounded electricians.
When it comes to safety, Kardaras said, "you get to practice in a safe way virtually and make your mistakes virtually because if you make a mistake with electricity, it can be deadly."
Particularly with the pre-apprenticeship/apprenticeship programs, it allows them to build confidence on the tools without the stress of making a critical mistake.
"You can practice it more often than you can with the traditional style of training, again because of consumables, you can do it over and over again – but you can only use so much copper and steel in a traditional style of training," Kardaras noted.
VR can also work as an avenue into the electrical trade for people who may have been too intimidated in the past and potentially help attract more apprentices.
Was There a Learning Curve or are People Able to Jump Right in?
"Both. Depending on their experience with gaming, if you played a lot of video games it doesn't take you long to adjust. It's not really an age thing either, at first, I thought the older crowd would have trouble with it, but I've got older workers that hop right in no problem."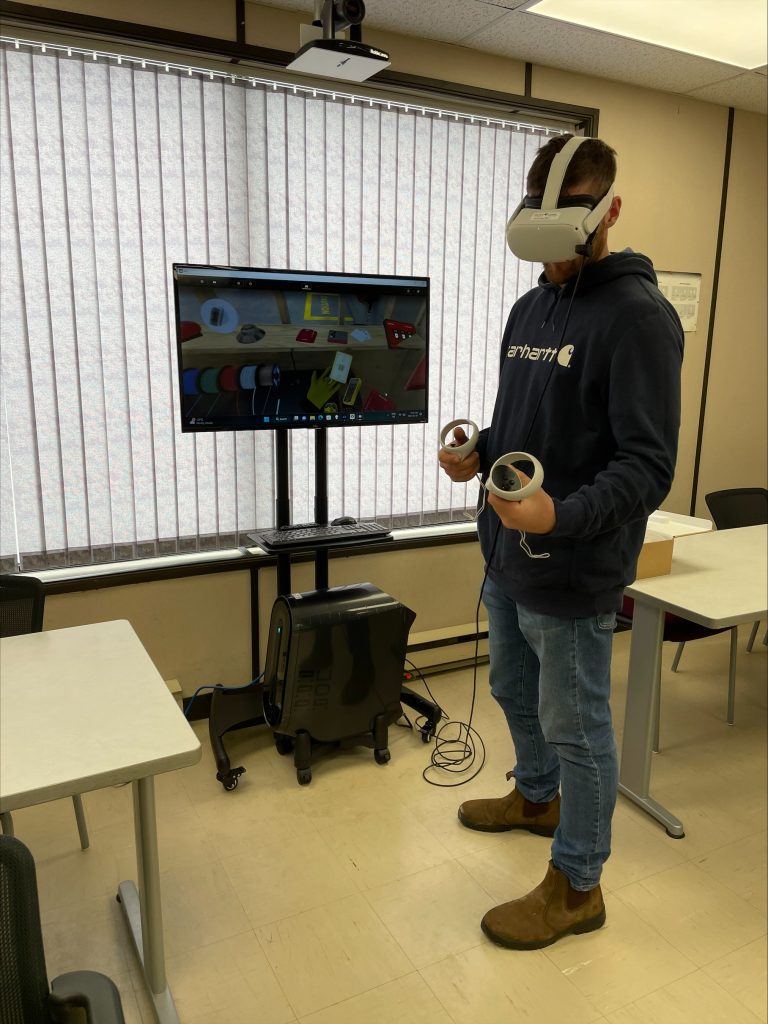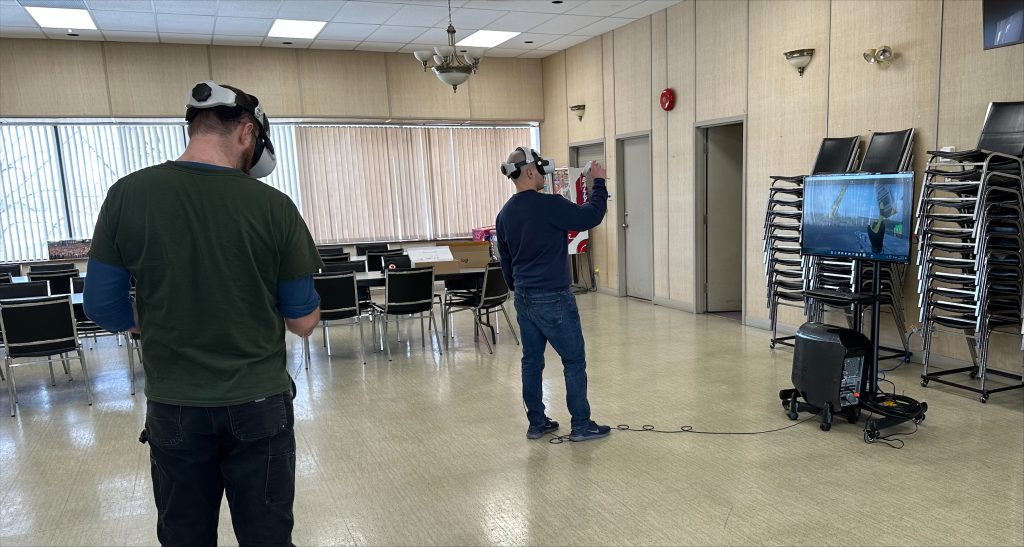 A lot of people coming up through the trades now either grew up with video games or never stopped playing them. Although, there is a small percentage of people that can't adjust to VR, because it can cause some dizziness and nausea. Kardaras said he has only seen that reaction once out of over 100 people who have gone through the training.
How has the introduction of VR impacted your job?
"It's impacted it quite a bit actually. Now as an instructor you have to be good with computers whereas [before] you didn't have to be computer savvy at all," Kardaras noted, for example, instructors have to be able to troubleshoot the VR headsets or the virtual recordings if the system isn't working.
A lot of their courses are what they call a 'blended class', so the class is being recorded as the instructor is teaching a live class while some of the participants are attending remotely via Zoom.
"As an instructor you've got a classroom full of students and two computers in front of you. You've got the one that's running your PowerPoint presentation, plus you've got another computer that's running Zoom connected to a whole bunch of students at home, which is also recording the class for the students that missed class. So, you have to be very handy with computers."
Certi-Fire Course & Future Applications in the Trades
Kardaras said he thinks VR training can be applied in other areas of the trades to simulate actual events as well as improve safety for those completing the training.
With respect to the former, a good example is the fire alarm systems course.
"One of the big advantages when you're doing a lab for fire alarm systems is not every training centre will have all the equipment – all the sprinkler equipment that's incorporated into fire alarm systems – where in virtual, sky's the limit. You can virtually wire up these systems is one part, the other part you can activate the water systems that go along with it."
One example is a specialty system in an aircraft hangar that will spray foam in the event of a fire, with the virtual training you get more of a full experience.
"We can actually put you in that aircraft hangar and you can see what happens when that system detects fire," Kardaras said.
The fire alarm course, which is being developed by ECAO and NORCAT, is in the beta phase. It's a four-level course and they are currently doing level one while the software is being finalized.
Kardaras sees the potential to apply AR/VR to other areas of electrical and other trades to improve safety, as well as a tool to draw in younger generations.
"If you're a powerline technician, if you're going to be climbing a pole and working with high voltage," he explained, for example, "there's no room for mistakes whatsoever. So, it would be great if you could do that virtually and make your mistakes there before you actually go into the field."
"It definitely will increase the training capabilities because of the accessibility and no consumables. I also think the younger crowds are drawn to it," he noted.
"When we first brought in the virtual thing, we were kind of making it an option," he said, "a lot of the younger apprentices were right on it right away and wanted to see what it was about, so that's also helpful to get them more involved."
As Kardaras said, there is a lot of potential for AR/VR training in the electrical trade as well as other areas of the trades, it will be interesting to see how the technology develops and the impact it will have on safety and apprentice success rates. We are beginning to enter a critical period for the electrical trade where demand for labour is increasing as electricians retire, and the push toward electrification intensifies. The influx of innovative programs like the one NETCO, CECA, and IBEW are leading with could provide the electrical trade an advantage in attracting more people, not just with the draw of interesting technology but the accessibility of an added layer of safety in training.
If you haven't already had a firsthand look at the technology, it will be a key focus at NETCO's Annual Conference coming up August 13th in Toronto. NECTO is currently developing training with IVRY on Conduit Bending, Transformers, and Lockout-Tagout. Additionally, NETCO is looking at developing a Motor Control course with NORCAT, as well as some other developments that will be discussed at their Annual Conference.
Related Articles: