Samsung Introduces Chip-on-Board LED Packages with Small LES and Advanced Colour Quality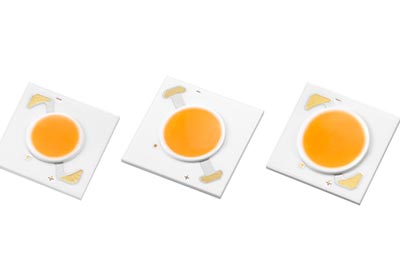 Samsung's new chip-on-board (COB) LED package line-ups include small LES (light-emitting surface) COB packages, high CRI (colour rendering index) COBs, and vivid COBs. With their outstanding colour quality and scaled-down light emitting space, the new COB packages provide a major design alternative for LED lighting makers.
"By expanding our COB package line-up, we are providing greater value to the LED lighting market, while giving our customers much more design flexibility with which to address market needs," said Jacob Tarn, Executive Vice President, LED Lighting Business Team, Samsung Electronics. "Samsung is continuing to introduce well-differentiated LED components to meet our customers' needs, while strengthening our presence in the LED marketplace."
Samsung has introduced three small LES COB packages (LC010C, LC020C and LC040C) to satisfy the market need for higher light intensity with very small form factors, and two new line-up options to its existing LC Series (LC006B, LC008B, LC013B, LC019B, LC026B, LC033B and LC040B). The new high intensity offerings include LC Series COB packages with a CRI over 95, as well as the Vivid COB LC Series, each of which will deliver premium light quality.
Small LES COB LED packages
Samsung LED's new Small LES COB packages — LC010C, LC020C and LC040C — offer 10W, 20W and 40W of operating wattage options respectively and significantly reduced dimensions. In the 40W-class LC040C, the diameter of its LES has shrunk to 11mm from the 17mm typically specified in conventional 40W COB packages. For the LC010C and LC020C offerings, the LES scaled down to 6 mm from 11 mm and to 8 mm from 12.4 mm respectively. These LES packages are approximately 35 percent smaller than the LES in most existing COB packages. Moreover, they offer exceptionally high light intensity and even higher Centre Beam Candle Power (CBCP) to provide the optimal narrow-beam solution for spotlights.
In addition, Samsung LED's new Small LES COB packages are built with advanced flip chip technology that enables them to deliver high reliability with low droop, under high current and high thermal conditions. The new Small LES COB line-up features high-efficacy levels of 110lm/W at 3000K CCT, CRI80+, 85°C.
Samsung's small LES COB packages will be sampled in July.
COB LED packages with ultra-high colour rendering
Samsung's newly introduced COB LED packages offer high colour-rendering with a CRI value of over 95. They will add significantly to Samsung's line-up of LC Series COB packages that provides CRI levels over 70, 80 and 90.
The high colour rendering packages faithfully reveal the true colours of various objects, and are used mainly for commercial LED lighting, which needs to present the colour of goods in their most natural state. The high-colour-quality COB packages support CCT (Correlated Colour Temperature) specifications between 2700K and 3500K.
Vivid COB packages
Samsung's new Vivid COB packages feature much more vivid colours than virtually any commercial LED light, making objects appear as attractive as possible to the human eye. This feature is enabled based on the Vivid COB packages' colour spectrum tuning and phosphor controlling. As a result, the package helps depict the red, blue and green coloration of objects much more clearly.
Samsung's ultra-high-CRI line-up is now available, while its new Vivid COB packages will be first sampled in July.
Find out more: www.samsung.com.