Hammond's High Power Heaters Keep Electrical Cabinet Condensation At Bay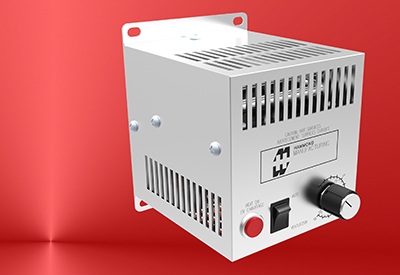 December 2, 2016
In response to a continuing demand for larger cabinets, Hammond Manufacturing has added a high power 1300 Watt thermostatically controlled cabinet heater, available in 120 V 60 Hz and 230 V 50/60 Hz versions, to its FLH series. The new model extends the series to five different wattage alternatives, giving a good choice of outputs powers to match the volume of the enclosure. Heaters maintain temperature levels above equipment minimums as well as help prevent dangerous, corrosive condensation.
Outdoor equipment, which can be exposed to large temperature swings during the 24-hour cycle, is particularly prone to condensation, especially when the enclosure is not thermally insulated. Condensation may also form in indoor enclosures when humidity levels are high and temperatures swing sharply. When condensation accumulates on the interior surface of an electrical enclosure, it can result in premature aging, corrosion, short circuits and complete electrical or electronic equipment failure.
The FLH Series offers automatic operation. The built-in thermostat can be adjusted from 0 to 100°F, -18 to +38°C; the integral fan can run constantly or operate automatically under the control of the embedded thermostat.
Find out more: www.parkfield.co.uk/hammond-canada/Electrical/.