Acuity Brands: PSLED LED Flood is Now Stronger than Ever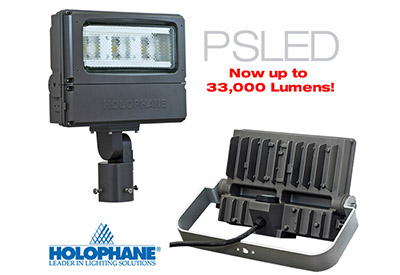 Febryary 12, 2020
Re-engineered to replace up to 400W HPS or 1,000 MH floods, the robust, high-performance Holophane Predator PSLED has undergone another upgrade to continue the Holophane tradition of providing the industry with robust, reliable floodlighting solutions with the lowest total cost of ownership. The updated PSLED now provides 33,000 lumens and up to 160 LPW, offering customers even more energy savings and reduction in operating costs. We have also enhanced the available surge protection options to continue providing best-in-class protection of critical electrical components.
Features
– 100-400 watt HPS or 1,000 MH replacement
– 33,000 Lumens and up to 160 LPW
– 40-60% more efficient than comparable HID luminaires
– Light 28-30 lb. weight
– ANSI 20kV/10kA surge protection
– Utility-friendly features including tool-less access
– Available in 3,000K, 4,000K and 5,000K (70 CRI Minimum)
– 3×3, 4×4, 5×5, 6×6 and 6×5 distributions
– Robust 3G-rated cast aluminum construction
– Mounting options include tenon slip fitter knuckle or a galvanized, painted or stainless-steel yoke
– Rotatable 7-pin locking style receptacle available
– Variety of optional light trespass visors and protective guards
– Industry-leading controls options and compatibility
– CSA/UL wet location and Marine safety listing available
Go HERE for more information.