New Greenlee® Gator Hard Metal Cutter Features Industry-First Shock-Load Damping System to Minimize Released Energy in Every Cut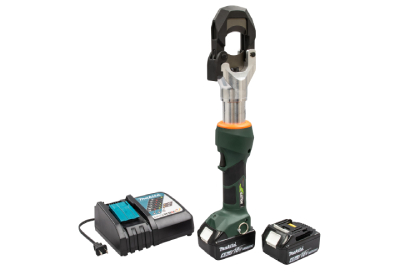 January 13, 2022
Greenlee, part of Emerson's professional tools portfolio, introduces the new ESG45LX Gator Hard Metal Cutter, a tool solution for the high-voltage industry, featuring an industry-first shock-load damping system that minimizes released energy while making cuts.
The ESG45LX is ideal for overhead one-handed operation and cuts up to 1/2-inch Rebar (Schedule 60) and EHS Guy Strand and 5/8-inch Ground Rod and Standard Guy Strand. It has a compact, lightweight design, weighing less than eight pounds with battery, and is 33 percent lighter than an earlier model thanks to a redesigned flip-top style latch that reduces overall weight.
Additional tool features include a double-click activation profile to avoid unintentional engagement of cutting jaw; quick-change field replaceable aluminum conductor steel-reinforced (ACSR) cutting blades to minimize downtime and connection with the Greenlee Link App to track tool performance.
"The new Greenlee ESG45LX Hard Metal Cutter integrates industry-first technology that not only enhances safety for the high voltage utility professional, but also makes their job easier for better productivity on the jobsite," said Ryan Berg, director of product management, Greenlee for Emerson. "From the shock-load damping system to its lightweight, ergonomic design, this cutter is the tool to have for hard metal cutting."
Learn more about Greenlee's ESG45LX and schedule a demonstration by visiting Greenlee.com/HardMetalCutter. Find a local Greenlee distributor by visiting Greenlee.com/where-to-buy. For more information about Greenlee, visit Greenlee.com.