IPEX Scepter Meter Offset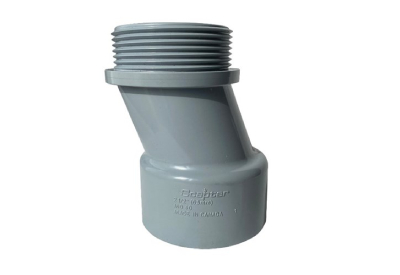 July 4, 2022
The Scepter Meter Offset is made of durable rigid PVC and used to connect PVC conduit to a meter box. It is designed to move the path of the conduit/duct away from the wall into the holes in the box or meter box. Available from 1 ¼" up to 2 ½" sizes to accommodate aluminum wire bond and 200A services. The latest addition – 2 ½" size also allows connection to the meter hub without the use of a reducer.
Meter Offset advantages:
Easy connection to junction and meter boxes
High impact and tensile strength even in cold weather
Threaded male end and solvent weld female end for watertight connections
Scepter offers a comprehensive offering of PVC non-metallic conduit fittings including adapters, couplings, elbows, access fittings, boxes, cover plates and expansion fittings virtually any fitting required to complete the PVC conduit system.
Go HERE for more information