Keystone, Distinctive Indoor Fixtures for any Application and Space
June 27, 2023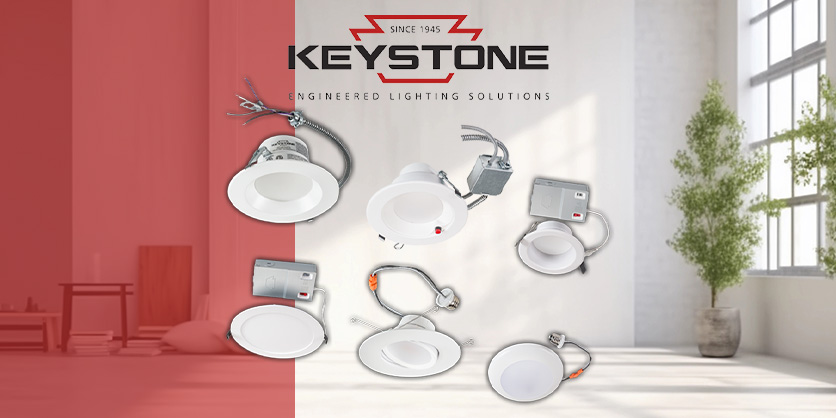 Keystone LED Downlights are the answer to your downlighting application needs.
Keystone product families are designed to meet the requirements of many types of projects: commercial and residential, new construction and retrofit, large environments and small spaces.
They serve a wide variety of applications, from fashionable retail outlets to office spaces to neighborhood homes and apartments.
Keystone LED Downlights also come equipped with Keystone innovation. Many feature Keystone's Power Select and Color Select technologies, which allow you to adjust lumen output and color temperature with the flick of a switch. They come in a range of sizes, offer interchangeable styles of trim rings, and feature up to 90 CRI.
And, of course, Keystone efficiency and reliability are built into every model.
Keystone LED Downlights are available in several categories: Advanta Downlights—with both integral driver and remote driver (AdvantaRMT) options—Advanta Emergency Downlights (AdvantaEMRG), Circa Wafers, Aviva Retrofit Trims, and Ova Disk Lights.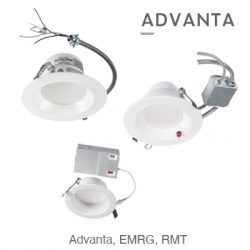 ADVANTA Downlights
Advanta is a full family of recessed downlights with the flexibility to work in any application.
Advanta downlights feature an integrated driver to install with existing J-boxes. AdvantaEMRG has a fully integrated emergency unit that takes the guesswork out of EMRG downlight installations. AdvantaRMT offers a remote driver unit for areas with narrow plenums. All are ideal for retrofit or new construction applications.
The family is equipped with Keystone's Power Select and Color Select technology, reducing SKUs and allowing installers to choose among selectable wattages and selectable color temperatures.
CIRCA Wafers
Circa is Keystone's wafer LED downlight, a slim lamp with big performance for both commercial and residential applications. Circa features a remote driver and built-in junction box, eliminating the need for a traditional multipiece fixture setup. With its thin body, it can fit in shallow ceilings and flexible locations without having to worry about ceiling joist obstructions.
Circa is available with Power Select and Color Select technology, offering three wattage outputs and five color temperatures, or in a dedicated version with a single wattage output.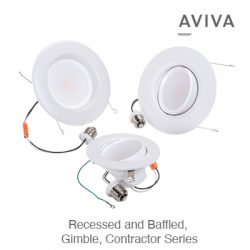 AVIVA Retrofit Trims
Aviva is Keystone's residential downlight solution. All Aviva downlights simply screw into the ceiling socket of any existing can light — no need for a junction box – while offering improved aesthetics vs. screw-in lamps. Installing in a retrofit? The quick-disconnect E26 base adaptor provides for easy installation. And if the ceiling is sloped, Aviva is available as a gimbal unit, so you can set the angle you need.
Keystone Power Select and Color Select technology is available on select models, offering up to three wattage outputs and five color temperature settings.
OVA Disk Lights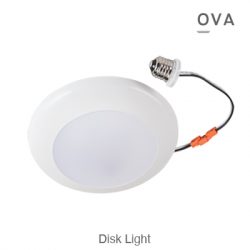 Keystone's Ova line of downlights is ideal for both commercial buildings and multi-dwelling unit (MDU) structures such as condominiums and apartment buildings. These surface-mount disk lights offer improved aesthetics vs. screw-in lamps while using the same easy screw-in installation. They mount directly to a junction box or retrofit into a wide range of existing cans, and their flush mount offers a clean, modern appearance.
Ova is equipped with Color Select technology, helping reduce SKUs and allowing end-users to choose from among four color temperatures.
Related Product
OpticSwap is a Keystone innovation that makes switching optics tool free: undo two clasps, change out the optic lens, and relatch the clasps. The fixture retains its weather-resistant IP65 rating. But it doesn't only change the way optics are switched out. Combined with Keystone's unique kitting approach, it also changes the market for area lights entirely.