Liteline Full Colour OnCloud Tape Kit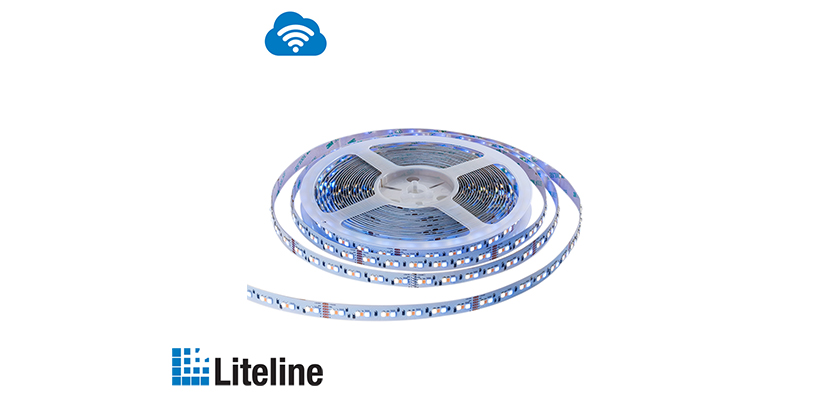 September 14, 2023
The Color Tape Kit includes Tape at selected length, LED driver, OnCloud Adapter, low-voltage powerfeed, and extrusion (optional). This LED tape provides ample illumination for residential, retail, and commercial general illumination. Suitable for dry and damp locations.
OnCloud Tape Kit Features
Lighting Performance: Available in 1000 (10W) and 1650 (19W) lumens per meter options, this high density full color (RGB + Tunable White) LED maintains uniform intensity. It provides full color with its RGB channels and full 2200K to 6500K whites through the dedicated tunable white channels producing up to 1650 lumens per meter at 3500K.
Color Temperature: Achieves full color, combining RGB and Tunable White (2200K – 6500K), with 90+ CRI in the Tunable White range and an R9 of up to 95.
Lumen Maintenance: LEDs reduce ongoing maintenance, has a rated life of over 50,000 hours.
Power Consumption: Operates as a constant voltage load at 24VDC, and consumes up to 0.80 Amps/19 Watts per meter.
Dimming: The LED tape is Wi-Fi dimmable when used with our OnCloud Adapter/High Power OnCloud Adapter (sold separately). See page 2 for driver options.
Note: Not compatible with standard dimmers.
Beam Spread: This LED tape features a 120° linear beam spread to provide even light distribution.
LED Driver: 24V DC driver available as plug-in or hardwire, with a DC 2.1 connector. Drivers feature open and short circuit protection, and over voltage protection.
OnCloud Adapter/High Power OnCloud Adapter: An integrated constant voltage LED driver and a Wi-Fi + Bluetooth controller module. Available in 40W and 96W.
Go HERE for more information