How Elocity Utilized the TMU Schneider Electric Microgrid Lab to Launch their EV Charging Start-Up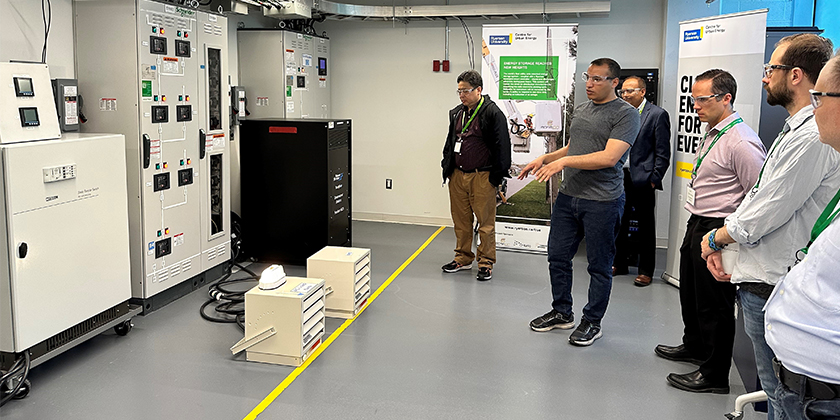 June 26, 2023
By Blake Marchand
Schneider Electric and Toronto Metropolitan University held a live panel event at TMU's Centre for Urban Energy to discuss the future workforce, as well as provide insight into the Schneider Electric Smart Grid Laboratory.
The tour of the Smart Grid Lab included a practical use case from Elocity, an EV charging start-up that used the Lab as an instrumental component to the launch of their company. As part of the event, Founder and CEO, Sanjeev Singh provided insight into how Elocity used the Smart Grid Lab to test their EV charger, and why it was essential to the process.
The SE Smart Grid Lab at TMU is a state-of-the-art facility that can physically and electrically represent a substation and feeders of any Local Distribution Company (LDC) or microgrid and houses all protection schemes, breakers, transformers, supervisory control and data acquisition (SCADA) and advanced distribution management system (ADMS) solutions.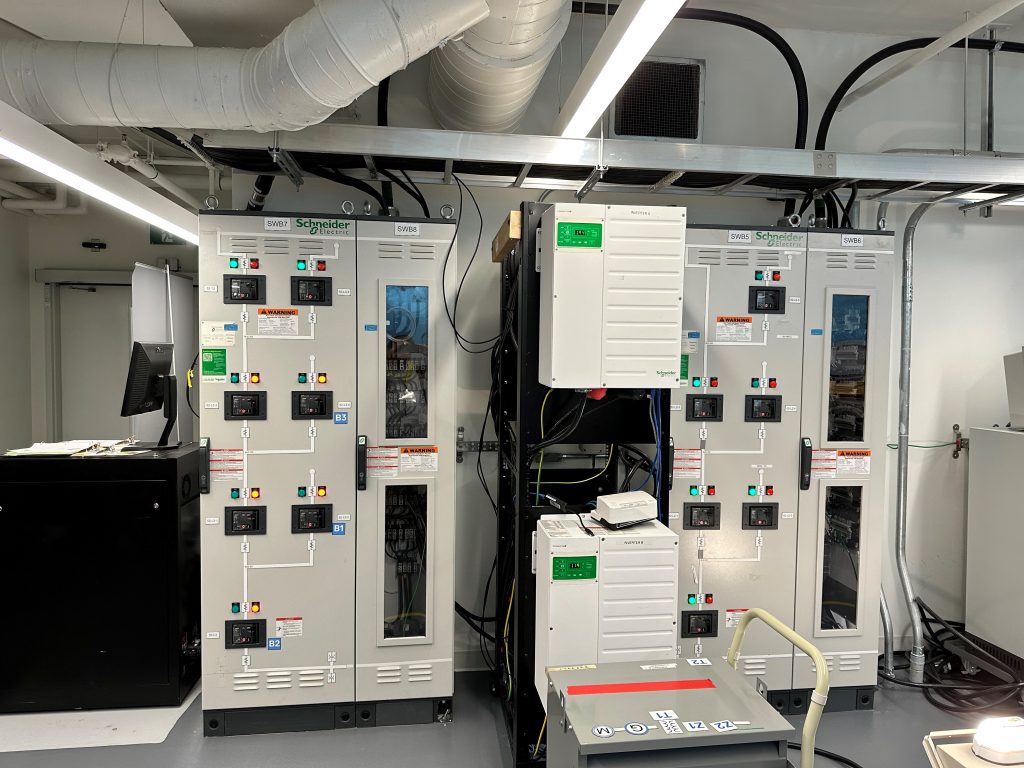 The SE Smart Grid Lab at TMU allows manufacturers like Elocity, as well as utilities, to test how new technologies will perform under different scenarios for considerably less than it would cost to test on an actual system.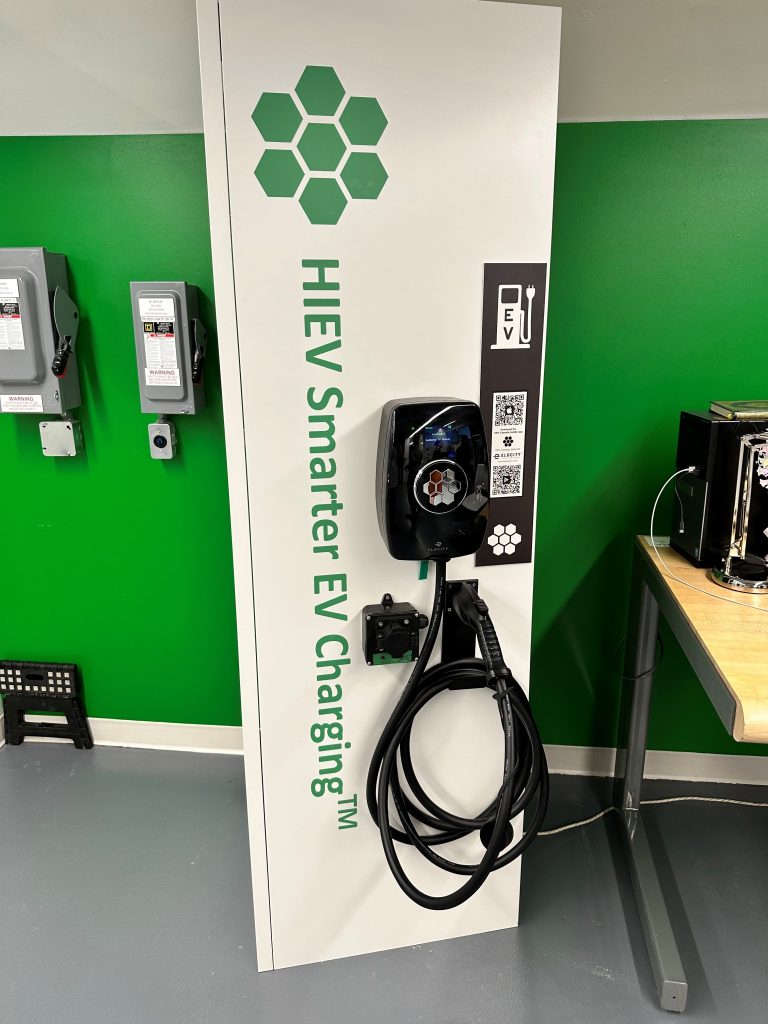 Affordable access to the Lab was essential for Elocity, but also provides unique learning opportunities for students.
"These labs give a good platform for the students to really see real world things, this kind of lab gives a glimpse into the future," Singh commented. When you have students working alongside start-ups and real-world projects, Singh said, "I think that's a really good combination for preparing our workforce for future technologies."
Elocity is an innovative company that provides utilities, EV charging service providers, and multi-unit residential buildings with EV charging management software and smart EV charging hardware that aims to create a more balanced grid load. The goal for Elocity is to reduce the cost of network management and infrastructure upgrades, as well as increasing the reliability and quality of the grid in mid to high EV adoption scenarios.
The company launched in 2018 with the help of the Lab as well as partnerships with two local utilities. The partnerships allowed them to test their technology and develop algorithms for their software. Their solutions are applicable to all EV charging use cases – single home residential, multi-unit residential buildings, commercial, public, fleet management, etc. They are certified globally for interoperability and cyber security, they have a presence in eight countries. Elocity currently has a contracted value of 10,000 chargers.
Developing solutions with open source interoperability and hardware agnostic technology are critical to their goals as a company.
On the end-user side, Singh explained that "We wanted to solve the problem around compatibility – to keep it non-technical: why different chargers are not able to charge different cars, why chargers are not able to talk to all of the software, why they are so costly, and why people are unable to maintain them."
A critical issue for any EV driver is the reliability of chargers. Singh explained that the failure could be the hardware – which Elocity addresses by designing and building their own hardware solution that is designed, built, and tested in Canada.
The second point of failure could be the communication, when the user is unable to get a signal from the EV charging network. To address that, Singh said, "We have given multiple options to our customers, and we have developed our algorithms to improve this communication. Our chargers, they don't fail in communication because we offer Bluetooth, we offer ethernet, we offer Wi-Fi, we offer cellular. We offer multiple types of authentications, RFID based authentication, phone-based authentication, Bluetooth based authentication. Then on the cloud system we have 99.9% uptime."
On the utility side they wanted to address the challenges associated with increased demand on the grid. The SE Smart Grid Lab helped them understand the impacts on the grid and helped them develop algorithms to minimize the strain.
"We worked with the Lab on a real project with London Hydro, and also with Toronto Hydro," Singh noted, "so they are not only for us to conceptualize, design, test, and validate; they are also our project partners," he said of TMU's Smart Grid Lab.
The partnerships on these two pilot projects provided them with the data and analytics to build their algorithms around prediction and forecasting demand.
"We want to pick when to charge, when not to charge, when to shift demand," he explained, "and what will be the stability of the system if 10 people start charging versus five people versus two people."
The analytics from those two projects allowed them to develop a model that ensures end users are getting the most cost-effective charge, while "the grid operator can be ensured that they will not face problems with blackouts because the demand can be managed," he explained.
Broader EV adoption, as well as electrification as a whole, will put more and more strain on the grid. Meeting those demands as Canada transitions to net-zero by 2050 will require a multi-faceted approach that includes improving energy efficiency, deploying new technology and algorithms to shift and manage demand, implementing smart technology on the grid, and supplementing the grid with distributed energy resources. Initiatives like TMU's Schneider Electric Smart Grid Lab connects students with real world applications that will be critical to the future of electricity, and ultimately, preparing them to contribute and innovate in the future electricity workforce.
Related
On October 8th, 2019, Schneider Electric brought together experts from multiple disciplines to explore the role collaborative innovation will play in the future of sustainable energy and smart grid evolution in Canada. Read More